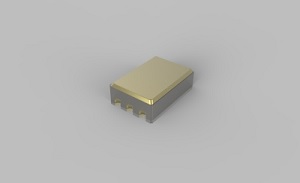 Source: Isobaud, Inc.
Isobaud Inc.'s 4N2XU series optocoupler consists of a phototransistor optically coupled to an aluminum gallium arsenide (AIGaAs) infrared-emitting diode. The leadless hermetic sealed six-pin LCC package is radiation tolerant and operates over a wide temperature range from -55° to 125° C.
The device features rugged construction and a 1,000 Vdc isolation voltage. The surface mount package has a small foot print of 4.32 x 6.22 x 0.2 millimeters and a soldering temperature of 240° C for up to 10 seconds.
The highly reliable optocoupler offers ground signal isolation for a variety of applications, including switch mode power supplies, computer peripheral interfaces and motor controllers.