In a world where self-driving cars are quickly becoming a reality, should we be surprised that a New York start-up company is developing a self-propelled baby stroller? Smartbe's "intelligent stroller" employs an electric motor that propels it forward and backward using powered front wheels so parents can jog or walk behind it in a totally "hands free" manner. The motor is said to be strong enough to push the stroller uphill and stop it from rolling away downhill.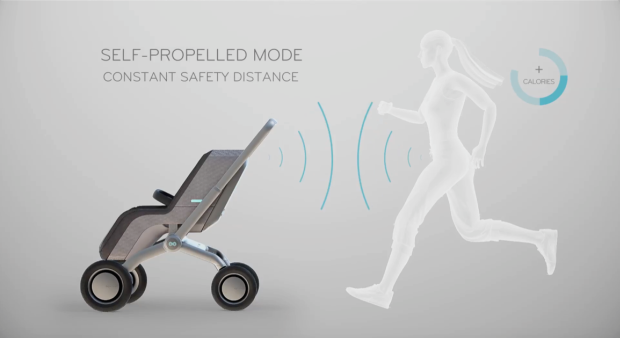 Self Propelled Mode
When in self-propelled mode Smartbe synchronizes with your movements using a motion tracking system. A distance measurement sensor helps the stroller maintain a constant distance with the paired iOS- or Android-powered smartphone being carried by a parent. If the parent starts walking backwards, the stroller goes into reverse. If the parent stops, the stroller does as well (should the Smartbe take off on its own a "stop cord" connected to the wrist of a parent or nanny will detach and immediately halt the stroller). Taking a leaf from the pages of automotive driver assist system (ADAS) designers, Smartbe employs smart stop technology that will slow and brake the stroller automatically when objects are in the way. All electric functions are said to have manual backup options.
Numerous tasks can be managed by the Smartbe smartphone app. For example, the app can trigger the Smartbe frame to fold and extend automatically. A video monitoring system using a microphone and internal and external cameras allow parents to use the Smartbe App to monitor their baby. Also for safety purposes, only authorized persons like parents and nannies can unlock the wheels of the stroller, and the Smartbe App immediately alerts you when the stroller is moved.
Smartbe also offers an assist-propelled mode where the motor helps it along as you push. Like the self-propelled mode, the assist-propelled mode also keeps the stroller within safe reach of parents.
The stroller can run on battery power for almost 6 hours. When the battery is discharged or uncharged there is a manual mode that does not use the electric motor and turns Smartbe into something of an ordinary stroller (assuming that your ordinary stroller comes with features like wireless speakers, a bottle warmer, three retractable canopies, a rocker and a temperature-controlled bassinet). You can also charge your Smartphone using the Smartbe battery.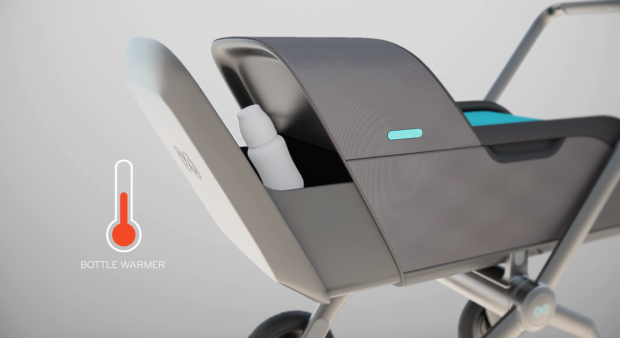 Smartbe features wireless speakers, a bottle warmer, three retractable canopies, a rocker and a temperature-controlled bassinet.
Smartbe will be available in a number of colors and patterns such as Gray Tweed, Black Zebra, Camo and Monochrome.
Smartbe was launched on the crowd funding site Indiegogo and quickly reached its goal of $80,000. Basic push-it-yourself versions of the stroller are expected to be on sale at the early bird offer price of $399 by the end of this year, while the propelled versions are expected to start at an upmarket $2,750 with availability scheduled for April 2017.