Boston Dynamics, MIT spin-out company, has released a video showcasing a new version of Atlas, its humanoid robot designed to negotiate outdoor, rough terrain.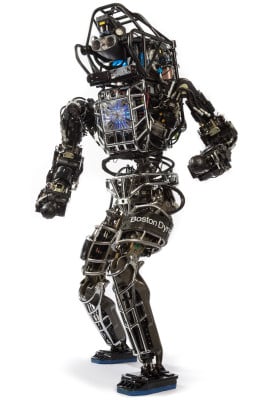 Atlas humanoid robot. (Image Credit: Boston Dynamics)The new version, specialized for mobile manipulation, is electrically powered and hydraulically actuated. Atlas uses sensors in its body and legs to balance and LIDAR and stereo sensors in its head to avoid obstacles, assess the terrain, help with navigation and manipulate objects. This version of Atlas is about 5' 9" tall (about a head shorter than the previous version of Atlas) and weighs 180 lbs.
The video shows Atlas lifting 10 lb. boxes gently and quietly and even resisting the urge to fall down when pushed by a human. In one instance, the human in the video does manage to knock Atlas over with a pole, but Atlas maneuvers just like a human, hopping onto its knees and propping itself back onto its feet.