Intersil Corporation has introduced reportedly the industry's first buck-boost battery charger that supports two-way power delivery in ultrabooks, tablets and power banks using the reversible USB Type-C connector. The single-chip ISL9237 Narrow VDC (NVDC) battery charger replaces competitive buck and boost two-chip charger solutions, eliminating a charger IC and inductor to reduce customer bill of materials (BOM) costs by up to 40 percent.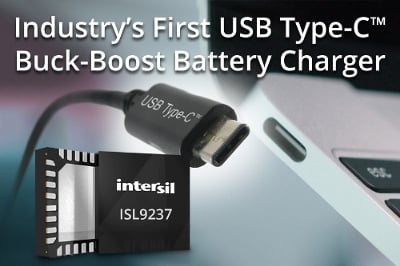 Intersil ISL9237 buck-boost charger (Image courtesy of Intersil).

The ISL9237 leverages Intersil's R3 modulation technology for acoustic noise-free operation, light load efficiency and ultra-fast transient response to extend battery run-time. The USB 3.1-compliant ISL9237 provides buck-mode, buck-boost-mode, and boost-mode for 1-to-3 cell Li-ion batteries. It also supports USB On-The-Go (OTG) with a 5 Vout reverse buck-mode, and reduces traditional two-stage charging to a single-stage buck-boost for improved efficiency. The USB Type-C interface connection enables delivery of data, video and power up to 100 W over a single cable.
In charging mode, the ISL9237 takes input power from a wide range of DC power sources -- AC/DC charger adapters, USB power delivery (PD) ports and any travel adapter -- to charge battery packs with up to 3-series cell Li-ion batteries. The ISL9237 can also operate connected to only a battery, an adapter, or both. The ISL9237's system turbo-mode helps the battery and charger adapter work together to supply the system load when it exceeds the adapter's capability. In turbo-mode, the ISL9237 quickly turns on the battery BGATE FET to deliver system power. In addition, the ISL9237's wide 5 V to 20 V input voltage capability helps boost the USB-C ecosystem to support new power bank products.

The ISL9237 buck-boost battery charger is available now in a 4 mm x 4 mm, 32-lead QFN package. List price is $3.50 each in 1,000-piece quantities.