Silicon Labs has introduced an optical heart rate sensing solution designed to reduce the cost and complexity of wrist-based heart rate monitoring (HRM) applications. The Si1144 HRM solution includes a low-power optical sensor module paired with a micro-controller (MCU) running Silicon Labs' HRM algorithm. The small-footprint (4.9 mm x 2.85 mm x 1.2 mm) Si1144 sensor module integrates an optical sensor, green light-emitting diode (LED), LED drivers supporting up to two external LEDs, an analog-to-digital converter (ADC), control logic, and an I2C digital interface supporting data rates up to 3.4 Mbps. Operating from a 1.71 V to 3.6 V supply voltage, the module draws less than 500 nA standby current, promoting long battery life in wearables.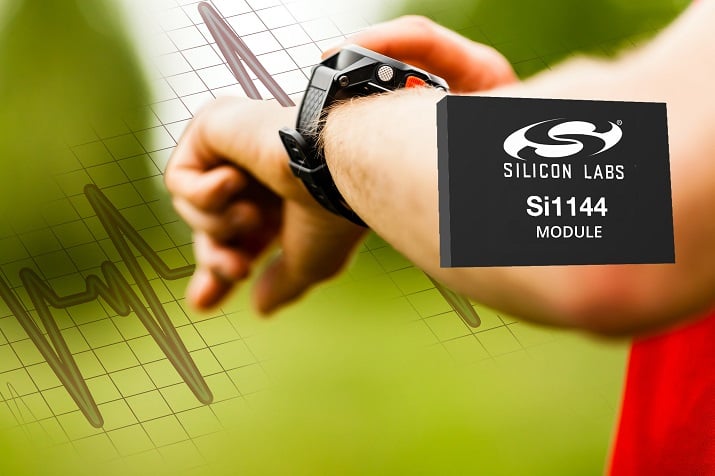 Silicon Labs' Si1144 integrates many of the components needed to implement heart rate monitoring. Image source: Silicon Labs
According to the company, the Si1144 provides a wrist-based HRM solution with accuracy rivaling that of chest-strap-based designs without the inconvenience and comfort issues that chest straps can engender. Wrist-worn designs also allow easy monitoring when running or cycling.
The Si1144 HRM solution targets a wide range of wearable devices including activity-tracking fitness bands, pedometers, and smart watches — in addition to providing HRM capabilities for gym fitness equipment, bathroom scales and geriatric monitoring devices.
Pricing and Availability
Samples and production quantities of the Si1144-AAGX HRM module are available today. The Si1144 module along with Silicon Labs' HRM algorithm is priced at $2.82 (USD) in 10,000-unit quantities. The HRM44-GGG-PS development board, priced at $57.60 (USD MSRP), enables developers to jump-start evaluation and development of wrist-based HRM applications. To order Si1144 module samples and starter kits, visit www.silabs.com/HRM.