Pumped up by demand from a wide range of users, including professional athletes and exercise enthusiasts, global shipments of sports and fitness monitors are set to total more than 250 million units during the next five years combined.
Shipments will rise to 56.2 million units in 2017, up from 43.8 million in 2013, according to a new report entitled "The World Market for Sports & Fitness Monitors" from IMS Research, now part of IHS (NYSE: IHS). During the five-year period, total shipments will amount to 252 million units, as presented in the attached figure.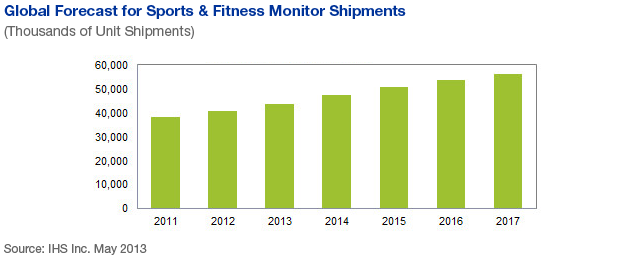 "Fitness monitoring is big business, spanning the glamorous world of famous sports figures, to the burgeoning fitness industry, to the realms of clinical and military research, to the health-enhancing fields of chronic disease management and corporate wellness programs," said Shane Walker, senior manager for consumer & digital health research at IHS. "Because of this, top brand names in the sports apparel and equipment industry have flocked to the market, including Nike, Adidas, and Under Armour. Even in tough economic conditions, the fitness monitoring market has continued to expand, showing the resiliency of demand for the technology."
The fitness monitor market encompasses a wide range of products, including fitness and heart-rate monitors, sports and running computers, outdoor pursuit computers, cycle computers, activity monitors and pedometers. The vast majority of the most common devices—heart-rate monitors, activity monitors and pedometers—are priced at less than $200.
In terms of revenue, fitness and heart rate monitors that include a strap continue to be the largest segment in the sports and fitness monitor market, accounting for 23 percent overall in 2012. However, as the market for GPS-enabled monitors matures and the use of activity monitors increases, their share of the total market is forecast to decline to 19 percent at the end of 2017.
Wrist-based, or finger-sense, heart-rate monitors are forecast with a 9.5 percent compound annual growth rate through 2017. These devices will continue to serve recreational consumers who do not require the continuous monitoring provided by a chest strap.
Pedometers are still the largest segment in the sports and fitness monitors market on a unit basis. This will continue to be the case throughout the forecast period. However, IHS expects volumes to decline due to the adoption by consumers of smartphones as a replacement device, and because pedometers are evolving into activity monitors.
Activity monitors are forecast to enjoy very strong growth, thanks in no small part to the Nike+ FuelBand and to other high-profile monitors from Adidas, Under Armour, Fitbit, Fitbug, BodyMedia and Jawbone, to name a few. Given the numerous entrants into the activity monitor market over the last two years and the generally positive reaction from consumers to date, InMedica forecasts a threefold increase in unit sales for these activity monitors in the next five years.
Like the regional distribution of sales among sporting equipment and apparel suppliers, the sports and fitness monitor markets for the Americas and the collective Europe-Middle East-Africa (EMEA) region deliver similar results, with the Americas at 41 percent of sales, EMEA at 42 percent and Asia-Pacific at 17 percent. Owing to strong growth expectations in China, the Asia-Pacific region will account for 21 percent share of the market by 2017.