A new 3D-printing technique could enable people to create many more products at home, inexpensively.
A team of engineers at the University of Bristol has developed the technique that uses ultrasonic waves to produce a pattern of microscopic glass fibers which give components increased strength. A laser then cures the epoxy resin and creates the component can print composite materials, which are used in many products like tennis rackets, golf clubs and even airplanes.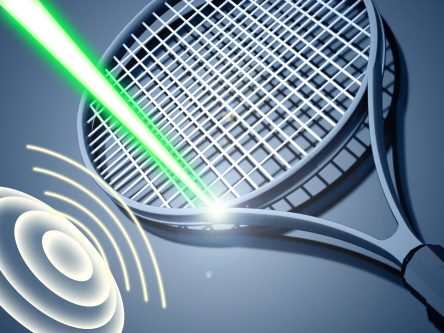 The research team has developed the first demonstration of 3D printing of composite materials. (Source: Matt Sutton, Tom Llewellyn-Jones and Bruce Drinkwater)
In its demonstrations, the team carefully positioned millions of tiny reinforcement fibers which were molded into a microscopic reinforcement framework to give the materials their strength. The microstructures were then set in place with a focused laser beam, which cured the epoxy resin and then printed the object.
"We have demonstrated that our ultrasonic system can be added cheaply to an off-the-shelf 3D printer, which then turns it into a composite printer," says Tom Llewellyn-Jones, a PhD student in advanced composites who developed the system.
In the study, a print speed of 20mm/s was achieved, which is similar to conventional additive layer techniques.
The new approach shows how complex architectures can be printed within a 3D object. Since the technique is versatile, its can enable 3D printing of many particle materials, shapes, and sizes.
"Our work has shown the first example of 3D printing with real-time control over the distribution of an internal microstructure and it demonstrates the potential to produce rapid prototypes with complex microstructural arrangements. This orientation control gives us the ability to produce printed parts with tailored material properties, all without compromising the printing," says Bruce Drinkwater, Professor of Ultrasonics in the Department of Mechanical Engineering.