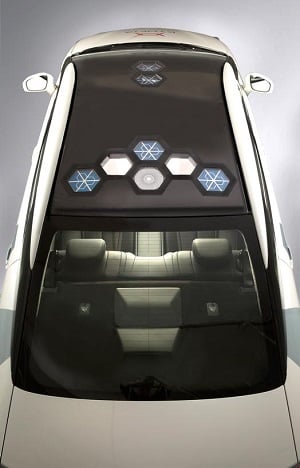 Toyota Mirai Research Vehicle with installed Kymeta antenna.
Having a 4G LTE connection in your car for on-the-go internet service may become a thing of the past even before it comes standard on most vehicles. The next big thing is satellite communications and it's already here. And the hardware won't look anything like the dish outside your house, or the radio antenna now on your car.
Toyota has teamed up with Redmond, WA-based technology partner Kymeta, maker of the mTenna, to develop an on-the-move data communications module for its vehicles that features a small, flat antenna installed in the roof. Unveiled this month in Detroit at the North American International Auto Show, Toyota's antenna-enabled Mirai fuel cell vehicle, or FCV, can download satellite data at 50 megabits per second, which tops most conventional LTE wireless service.
Since September 2013, Toyota and Kymeta have been jointly researching such an embedded flat antenna to support on-the-go satellite data distribution to a vehicle. While satellites traditionally have required the use of ground-based dish-type antennas, Kymeta's antenna eliminates the need for mechanical components by using software and liquid crystal technologies to electronically track and steer towards satellites. The antenna's flat, lightweight profile also provides seamless integration during automobile assembly or easy aftermarket installation.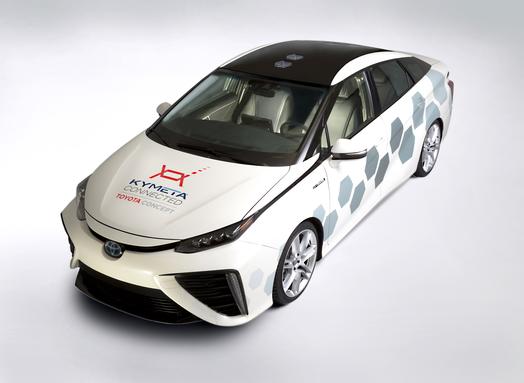 Satellite antenna-equipped Toyota Mirai Research Vehicle.
How It Works
The mTenna is based on electromagnetic metamaterial technology which uses a holographic approach to electronically acquire, steer and lock a beam to any satellite, with no moving parts. As explained by Kymeta, electromagnetic metamaterials result from arranging manmade materials in such a way that they produce an electromagnetic response not found in nature. On its mTenna suite of products, tunable elements are arranged in a precisely calculated pattern. Radio frequency, or RF, energy is scattered when the elements are activated, holographically generating a beam. The direction of the beam is defined by the specific elements that are electronically activated — a design that allows for both continuous and instantaneous changes in direction.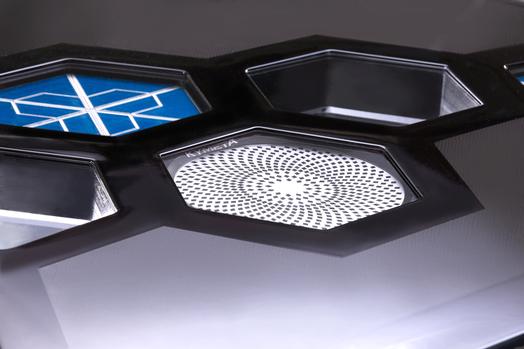 Kymeta satellite antenna is installed in roof of Toyota Mirai Research Vehicle.
To prove the technology on the road, Kymeta and satellite services provider Intelsat S.A. completed an 8,000 mile demonstration across the United States using a Toyota 4Runner test vehicle. Over the course of the journey, the antenna, installed in the roof of the SUV, automatically acquired and tracked Intelsat Ku-band satellite signals while on the move.
Benefits over Cellular
But don't think this effort was solely so parents can stream Netflix movies or download video games to keep their kids entertained on long vacation trips. Kymeta believes its technology solves the two basic constraints in mobile communications: coverage and capacity.
Less than 10 percent of the globe is covered by 4G LTE technology, and the wireless spectrum it covers is expensive. Building out the infrastructure will take billions of dollars and decades to implement. Moreover, the future of mobile bandwidth seems unsustainable given the proliferation of smartphones and the number of new ones coming onto the network each day.
Satellite communications provides an alternative in that there's more than 1,000 times more spectrum available by satellite with a global footprint. The problem is that most of this spectrum is used for fixed services because current antenna technology cannot access this bandwidth. Kymeta's technology solves this problem by replacing the current parabolic dish technology with a flat antenna that can be steered electronically and track a moving satellite from a mobile platform.
Focus on Automotive
According to Toyota, satellite communications meets several key automotive needs, including the distribution of large amounts of data to a vehicle at higher transfer speeds than offered by conventional services, broad coverage areas that don't require cell towers for transmission, global deployment of connected vehicles that share common standards across national borders, and more stable and secure communications, particularly in emergencies such as natural disasters.
While the satellite antenna may be a few years away from debuting in an automobile showroom near you, they're widely believed to be the future of the connected car.
"Satellite connectivity can best address the capacity, coverage and security concerns of conventional solutions to car connectivity. We don't have to wait 10 years for a next generation cellular network to be invented and deployed," says Kymeta founder and CEO Dr. Nathan Kundtz. "This will be crucial because five years from now every car that comes off a production line should be connected. In fact, we should stop calling it the 'connected car', and just call it 'the car' because this is the future of automotive."