German automotive supplier Continental is developing new vehicle-to-X (V2X) communication technology to improve the way cars interact with vulnerable road users.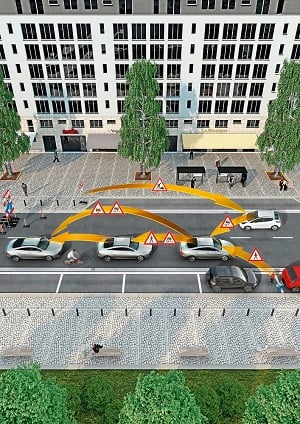 V2X technology allows for vehicles to communicate with pedestrians and cyclists via a smartphone. (Source: Continental)
Using short-range communication, Continental's V2X technology allows for the exchange of position data in order to avoid possible collisions or significantly reduce accident severity, Continental says.
Bernhard Klumpp, head of the passive safety and Sensorics business unit at Continental, says one of the greatest challenges on the road to accident-free driving is protecting pedestrians and cyclists. "Short-range communication can play a decisive role here, too, and brings us one step closer to our goal of zero traffic fatalities," Klumpp says.
A vehicle with V2X technology is able to communicate with pedestrians or cyclists that carry a smartphone or a special transponder. Modern vehicle-to-vehicle (V2V) or vehicle-to-infrastructure (V2I) that communicate on direct ad-hoc communication. Continental says in the future it will be possible to incorporate smartphone communication into this ad-hoc communication so it can communicate with vehicles using V2X.
"It is particularly important to make sure that the high standard of data security and functional reliability of V2X technology is also implemented when extended to communication with smartphones," says Dr. Gunnar Jürgens, head of development in the Passive Safety & Sensorics business unit and managing director of Continental Safety Engineering.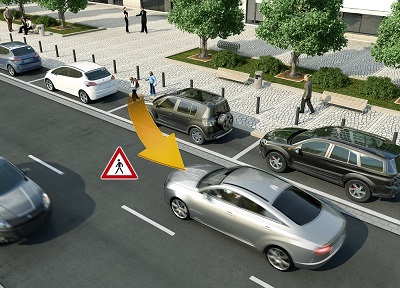 Vehicle-to-X technology enables the exchange of position and movement data between vehicles and people in the road. (Source: Continental)Continental says V2X can allow for the position and movement predictions of vulnerable road users and are transmitted anonymously to the vehicle. These messages are processed within less than 0.1 seconds and the vehicle decides whether or not the driver needs to be warned or if intervention in the vehicle dynamics is necessary. Because short-range communication has a very low latency time, with a range of 300 to 500 meters, it is seen as an essential tool in the exchange of safety relevant information such as vehicle position, dynamics and brake operation.