Advanced driver assistance, Vehicle-to-X communications and sensor technologies from electric mobility technology developer Continental are designed to transform today's dangerous intersections into safer, more intelligent intersections. These areas are notorious traffic trouble spots: about 51 percent of all injury crashes and 28 percent of all fatal crashes in U.S. occur at intersections according to the U.S. Department of Transportation.
Continental technology detects road users within a 360° perimeter of intersections and communicates the position and movement of these objects to all approaching vehicles, which are equipped with V2X technology. The company will showcase these solutions at CES 2018 in Las Vegas during January 9-12, 2018. Continental will also demonstrate its Holistic Connectivity Experience demo car.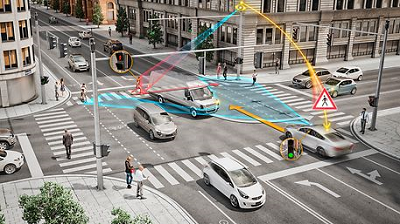 Vehicle-to-X communications and sensor technologies turn dangerous intersections into safer, intelligent intersections and protect vulnerable road users such as pedestrians and cyclists. © Continental AGThe end-to-end Intelligent Tntersection solution comprises the complete sensor set for an intersection. Camera, radar and Lidar elements are positioned at intersection corners to detect every road user in the area and deliver a list of relevant objects to a sensor fusion unit, which generates a comprehensive 360° environmental model. Relevant objects are then broadcasted via dedicated short-range communication to every vehicle approaching the intersection. A DSRC control unit in the vehicle receives the messages as an onboard system checks for relevance and triggers and appropriate action if a critical situation is recognized.
Sensor-based driver assistance makes driving safer but pedestrians or cyclists will only benefit from this technology if they can be detected by vehicle sensors. Traffic situations typical at intersections often make that difficult since other vehicles and city infrastructure can easily occlude vulnerable road users and even other vehicles. The underlying challenge is posed by effects like sensor shading and obstruction of view. By bringing vehicle-proven technologies to the infrastructure, Continental is addressing this challenge.
The Intelligent Intersection technology was first demonstrated on a test track in October 2017 at Continental's development center in Brimley, Michigan. The next steps include a broader test roll-out and pilot implementation of the technology at an intersection in Columbus, Ohio.