Nvidia Corp. has unveiled a credit-card sized machine learning module designed to create the next-generation of smart, autonomous devices.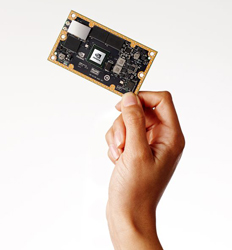 Nvidia's Jetson TX1 module is designed to process deep neural networks. Source: Nvidia The Jetson TX1 module is an embedded computer designed to process deep neural networks and can incorporate capabilities such as machine learning, computer vision, navigation and more. With these features, drones will be able to not just fly remotely, but navigate through a forest for search and rescue. Moreover compact security surveillance systems will not only scan crowds, but also identify suspects or robots that do not only perform tasks, but can be tailored to an individual's habits.
"Jetson TX1 will enable a new generation of incredibly capable autonomous devices," says Deepu Talla, VP and GM of the Tegra business at NVIDIA. "They will navigate on their own, recognize objects and faces and become increasingly intelligent through machine learning. It will enable developers to create industry-changing products."
The module includes a 64-bit ARM A57 CPU, 4k video encode and decode, 4GB of LPDDR4 memory, 16 GB embedded multimedia card, Bluetooth and WiFi capabilities and has a performance of 1 teraflops.
Questions or comments on this story? Contact engineering360editors@ihs.com
Related links:
IHS Semiconductors & Components
News articles:
Nvidia Launches Graphics-Intensive Virtualization Platform for Enterprise Workflows
Pixar Licenses Nvidia's Image Rendering Technology
Razer Acquires Android TV Developer Ouya's Software Assets
Deep Learning: Automotive Industry Takes a Giant Leap Forward