Kia Motors, a division inside the Hyundai Motor Group, has introduced its plans to bring its first fully-autonomous vehicles to market by 2030.
The plan will begin with an initial research investment—totaling $2 billion by 2018—to research advanced driving assistance systems (ADAS)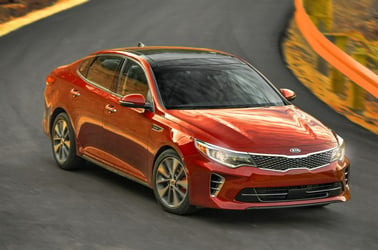 Kia has rolled out a roadmap for partially- and fully-autonomous vehicles by 2030. Pictured is Kia's 2016 Optima SX. Source: Kiatechnologies for partially-autonomous driving cars by 2020. This investment will lead to the introduction of a next-generation of smart vehicles the following decade, Kia says.
Tae-Won Lim, VP of the central advanced research and engineering institute of Hyundai Motor Group, says fully-autonomous vehicles are some way off and a great deal of research and testing will be needed in order to make a self-driving car a reality. "Kia is still in the early stages of developing its own technologies, and we are confident that the latest innovations—both partially- and fully-autonomous—will ultimately make driving safer for everyone," Lim says.
Kia is working with automotive suppliers and affiliates in order to bring three technologies in the ADAS space to market including:
Recognition – The development of new sensors to detect other vehicles and hazards, read the road ahead and identify poor driving conditions.
Judgment – Allowing the car to make decisions based on the information gathered by ADAS sensors.
Control – Active electronic and mechanical systems that carry out the decisions taken by the autonomous technology in a given situation.
The initial investment will be focused on these technologies as well as research into how to allow simultaneous input from more than one sensor, secure localized knowledge and establish a production base for the high precision sensors required for autonomous driving technologies, Kia says.
Kia's partially-autonomous ADAS technologies are already under development including highway driving assist (HDA), which combines a land guidance system (LGS) and advanced smart cruise control (ASCC). HDA is designed to maintain a safe distance from cars in front while keeping the car in its lane on the motorway and keeping within the speed limit.
Its traffic jam assist (TJA) will help make light work of heavy congestion by tracking the vehicle in front during moderate-to-highly congested traffic conditions. The sensors in the vehicle help to keep a safe distance from the car in front while making it easier on the driver during peak traffic times.
The company is also working on enhancing the existing smart parking assist system (SPAS), which allows car to park itself in parallel or perpendicular spaces.
All of these features can be circumvented by direct driver control, Kia says.
Questions or comments on this story? Contact engineering360editors@ihs.com
Related links:
IHS Automotive & Transportation
News articles:
Olea Debuts Internet of Things Seat Belt Sensor for Automotive Safety
Mouser Adds ADAS Data to Automotive App Site
Freescale Expands Autonomous Driving Portfolio With Acquisition of CogniVue