Advanced driver-assistance systems (ADAS) like adaptive cruise control are designed to enhance the safety of vehicle occupants, but new research finds that these technologies can make distracted driving more likely. Drivers with experience using ADAS were shown to be nearly two times as likely to engage in distracted driving when these systems were activated. Users less experienced and familiar with the technology were less likely to drive while distracted with systems activated compared to when they were not.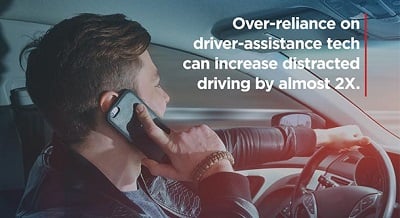 Source: AAAThe research conducted by the Virginia Tech Transportation Institute and AAA Foundation for Traffic Safety evaluated data from two previous driving studies. In one, participant behavior was monitored for one year as they drove their personal vehicles. During a mixed function automation assessment, participants were provided with a study vehicle to drive for one month. The resulting data were used to investigate driving behavior while in vehicles that offer adaptive cruise control and lane-keeping assistance, both while using the automation and when they were driving manually.
Drivers in the first group with their own cars were 50% more likely to engage in secondary tasks and 80% more likely to engage in visual or manual distractions when using the semi-autonomous systems. They also took more frequent and longer glances at non-driving-related tasks and kept their eyes on the road less.
Participants in the second group were less likely to be distracted while adaptive cruise control and lane-keep assist systems were engaged than they were during manual driving. But these drivers, who received leased vehicles and some training on how to use the systems, were slightly more likely to speed when both systems were active than the drivers who used their own vehicles.
The findings underscore the need to raise awareness among drivers of the potential pitfalls they may experience throughout all phases of ADAS operation, from inexperience and initial system use to experienced use.