How close are we to self-driving cars?
The fully automated car will not appear this year or next. Best estimates suggest that it will be the early 2020s before you can touch an "autopilot" button and have the car drives itself.
However, in the United States' Apollo program, which landed men on the moon, technologies have to be developed in stages before the final result can be successful. Prior to the first moon landing mission (Apollo 11) for example, Gemini missions developed some of the necessary space travel techniques such as practicing rendezvous and docking in orbit.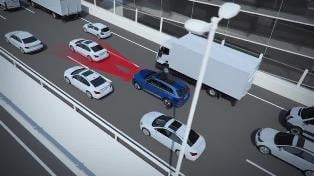 Active cruise control with Stop and Go function relieves drivers of the monotony of traffic jam motoring.Similarly, self-driving cars will come in several phases. The National Highway Traffic Safety Association (NHTSA) offers five levels of autonomy, from Level 0, the driver in complete and sole control of the vehicle to Level 4, Full Self-Driving Automation where the vehicle is designed to perform all safety-critical driving functions and monitor roadway conditions for an entire trip.
In between, we have Function-specific Automation (Level 1), involving one or more control functions such as electronic stability control. Combined Function Automation (Level 2) is defined as automation of at least two primary control functions designed to work together (such as adaptive cruise control in combination with lane centering). Meanwhile, Limited Self-Driving Automation (Level 3) is where vehicles enable the driver to cede full control of all safety-critical functions under certain traffic or environmental conditions while monitoring for changes in those conditions that require transition back to driver control.
A number of automakers are now delivering cars with level 2 automation functions. In addition to adaptive cruise control, a technology that automatically adjusts a vehicle's speed to maintain a safe distance from cars and trucks ahead (now standard or optional on more than 60 vehicles from the top five automakers in the U.S ), cars that can also self-drive in heavy, stop-and-go traffic are now or will soon be entering the market.
Let's look at some of these:
Utilizing no fewer than 23 sensors including 12 ultrasonic, four multi-mode radar devices, four cameras, a long-range radar up front, a stereo multipurpose camera at the top of the windshield and a sensor for steering column position, Mercedes' Intelligent Drive Next Level, will be offered on its 2017 E-Class. The features provide steering assistance not only on highways, but also on secondary roads even without lane markings. It does so by following the car ahead and by scanning for structures such as guardrails on the side of the road to keep the vehicle at a safe distance from the car ahead at speeds from 0 to 125 miles per hour (mph). The active steering assistance feature keeps the car in its lane, adapting to the curve of the road, at speeds up to 80 mph.

Instrument panel indicator for BMWs Driving Assistant Plus with Stop and GoBMW's 2016 7 series, Driving Assistant Plus equipment offers the comfort of partially autonomous driving, thanks to active cruise control with Stop and Go function and steering and lane control assist. Active cruise control maintains the desired speed up to 130mph as well as the distance to the car ahead. The convenient steering and lane control assistant takes over steering and automatically keep the car in the middle of the lane. In slowly moving traffic and traffic jams, the vehicle maintains the selected distance to the car ahead with automatic braking and accelerating.
Another stop and go traffic feature can be found in Volvo's 2016 XC90. Its "Pilot Assist" tracks not only the car ahead, but also road markings to follow traffic at up to 30 mph. Beyond that speed, it will tell you to take control of the steering. After the SUV is stopped for more than 6 seconds, it will also relinquish control back to the driver. The driver needs to keep one hand on the wheel, or else the system warns the driver to grab the steering wheel.
Audi's adaptive cruise control with stop and go function is available in a number of its larger models (such as the Q7 SUV). The system regulates the speed and the interval to the vehicle ahead by automatically accelerating and braking in a speed range of 0 to 155 mph. Audi's Traffic Jam Assist feature can essentially drive the Q7 on a well-marked highway, keeping the car in its lane at speeds of up to 40mph.
Cadillac says that it will include semi-autonomous driving functions in the 2017 Cadillac CTS. Its Super Cruise driver assistance technology includes hands-off lane following, braking and speed control for highway driving. On-board Vehicle-to-Vehicle communications (V2V) will make it possible for nearby cars to send and receive basic information such as location, speed and direction to handle traffic jams and avoid collisions.
Also starting next year, Nissan and Renault will make cars that can drive themselves in stop-and-go highway traffic. The feature, which Nissan calls "Traffic Jam Pilot," eventually will be offered across a wide range of Nissan, Infiniti and Renault vehicles. In 2018, the company will introduce technology that allows a car to autonomously negotiate hazards and change lanes. By 2020, they plan to introduce vehicles that can navigate without driver intervention in nearly all situations, including complex city driving.
As we get closer to the end of the decade, there will be more and more driving situations in which the driver will be able to safely hand over the task of driving to the vehicle. The advanced driver assistance systems on the market currently represent just the first step in this direction and will allow an evolutionary development of the truly autonomous car.
To contact the author of this article, email engineering360editors@ihs.com