Olea Sensor Networks has released a seat belt vital sign monitor for automotive safety applications that works with next-generation Internet of Things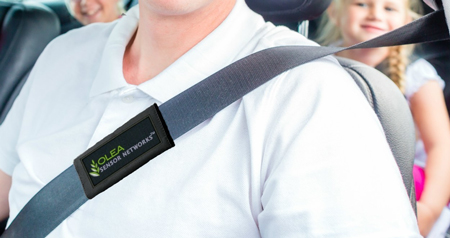 Olea's seat belt vital sign monitor works with next-generation IoT telematics systems inside a vehicle. Source: Olea (IoT) telematics systems and becomes a part of advanced driver assistance systems (ADAS).
The OS-3005 vital sign monitor combined with the company's OleaSense software analytics enhances seat belt systems by providing real-time detection of each individual's vital signs and transmits these analytics to the cloud. The device has no external wires, does not require direct contact with the body and integrates directly into existing seat belt restraint systems.
Frank Morese, CEO and founder of Olea, says in a statement that the OS-3005 vital sign sensor allows for human vital sign detection to become part of ADAS in vehicles. "The OleaSense system also augments next-generation IoT telematics systems to automatically and immediately call first responders following a crash, sending critical vital sign statistics in order to assess the conditions and identities of the driver and passengers involved," Morese says.
Questions or comments on this story? Contact engineering360editors@ihs.com
Related links:
News articles:
Mouser Adds ADAS Data to Automotive App Site
Automotive Image Sensor Features LED Flicker Mitigation
Next-Gen ADAS Image Sensor Features LED Flicker Mitigation
Freescale Expands Autonomous Driving Portfolio With Acquisition of CogniVue