This week, Intel appointed Raja Koduri -- formerly of AMD -- the chip maker's chief architect, senior vice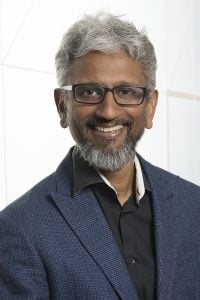 Raja Koduri, Intel's new chief architect, senior vice president of the Core and Visual Computing Grouppresident of the newly formed Core and Visual Computing Group, and general manager of a new initiative to drive edge computing solutions. In this position, 25+ year industry veteran Koduri will expand Intel's position in integrated graphics for the PC market.
In a statement, Intel noted Koduri's new role is aimed at "high-end discrete graphics solutions"; some industry sources speculate that may mean Intel could be preparing to make its own graphics card.
The announcement came the day after Koduri returned from a 40-day leave of absence from his most recent employer, AMD's Radeon Technologies Group.Koduri was senior vice president and chief architect at Radeon, responsible for supervising all aspects of graphics technologies that comprise AMD's APU, discrete GPU, semi-custom and GPU compute products. Earlier in his career, Koduri was director of graphics architecture at Apple Inc., where he helped build a graphics subsystem for the Mac product family and was instrumental in the transition to Retina computer displays.
Intel hopes to gain from Koduri's extensive background in visual and accelerated computing that encompass a wide range of platforms, including desktop computers, game consoles, professional workstations and consumer devices. His technical expertise includes graphics hardware, software and system architecture.
Koduri will officially begin in his new Intel role early next month.