Maestro Wireless Solutions has announced the availability of its industrial Internet of Things (IoT) multimode WAN/Cellular failover-capable router—the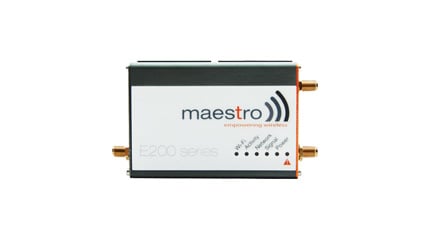 The Maestro E206 series. Source: Maestro Maestro E206—in the United States.
The multimode high-speed router is certified nationwide on the AT&T Wireless 3G and Verizon Wireless EV-DO networks and targets the industrial IoT market segment. The E206 is compact, ruggedized and easily mountable, with switchable WAN/LAN ports and secure 150Mbps Wi-Fi capability for mission-critical industrial IoT and Enterprise applications across a wide range of industries.
The E206 can be integrated during production ensuring scalability and ease of deployment. With failover and load balancing options, the E206 also targets business continuity solutions for enterprise customers requiring flexible and fault-tolerant data communications.
Maestro has also announced the Maestro E228 VZ. It features a Verizon Wireless 150Mbps LTE-only M2M router with WAN/Cellular failover, 300Mbps Wi-Fi, RS-485 serial data interface, extended operating temperature range, PD-PoE and last gasp battery, for deployment with M2M applications requiring LTE data connectivity in industrial environments. Maestro E228 VZ samples will be available for selected customer during the fourth quarter.
Questions or comments on this story? Contact the author of this article, email engineering360editors@ihs.com
Related Links: