The Saelig THT45 Thermal Imager, a professional, compact, infrared (IR) and visible camera features a bright 2.8" color LCD display, and a measurement update frequency of 50Hz. Intended for IR non-contact temperature measurement from -20°C to 350°C, each IR pixel in the 80 x 80 array collects temperature information through the lens, creating a two-dimensional thermal image.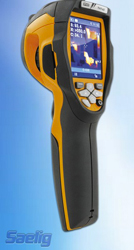 Thermal Imager features visible camera for accurate thermal investigationsIt also has a perfectly aligned 1.3Mpixel video camera that allows an accurately focused picture-in-picture fusion of visible and IR images to simplify the detection and analysis of temperature-related issues. The camera features a 32x electronic zoom, and the still or video images can be stored via the microSD slot, or the USB2.0 connector. The USB connector or the HDMI connector can be used for the simultaneous external display of images.
The THT45 features a built-in laser pointer for accurately locating temperature faults, and LED illumination for improved visible images. Pushbutton controls accessing an easy-to-use drop-down menu allow for quick access to all camera functions, such as automatic detection of hot or cold spots in the image. It also contains a built-in microphone, so images as well as audio comments can be stored together.
Unlike point-and-shoot IR thermometers that can aim a laser for a spot-read-out of temperature, the THT45 provides a video image of the target and its surroundings; important when attempting to locate overheating components on a printed circuit board. Accurate measurements of component temperatures can thus be made and compared with the device's specification limits. It has a 0.1 C thermal sensitivity, and a minimum focal distance of 20 inches.
Applications include detection of thermal issues caused by problems in electrical systems, mechanical and hydraulic systems, air conditioning, automobile or predictive maintenance, electrical inspections, non-destructive testing, process control applications, quarantine inspection, security monitoring, firefighting and rescue, building energy testing and diagnostics, veterinarian and medical assistance. At a mere 9 x 3 x 4", it is compact and weighs 1lb. The THT45 is available now.
To contact the author of this article, email engineering360editors@ihs.com
Related Links: