Computer Electronics
PCB Heat Distribution—Using Thermal Imaging for More Accurate Results
03 February 2017
Sponsored content
Heat generation and dissipation has long been one of the top concerns of designers and producers of printed circuit boards (PCBs). As manufacturers extract more and more performance out of smaller and smaller real estate, high temperatures can create problems on components, circuitry and base materials. High temperatures from resistive losses that may be amplified in harsh application environments can affect electric properties, such as impedance, and cause unpredictable performance of the circuit design.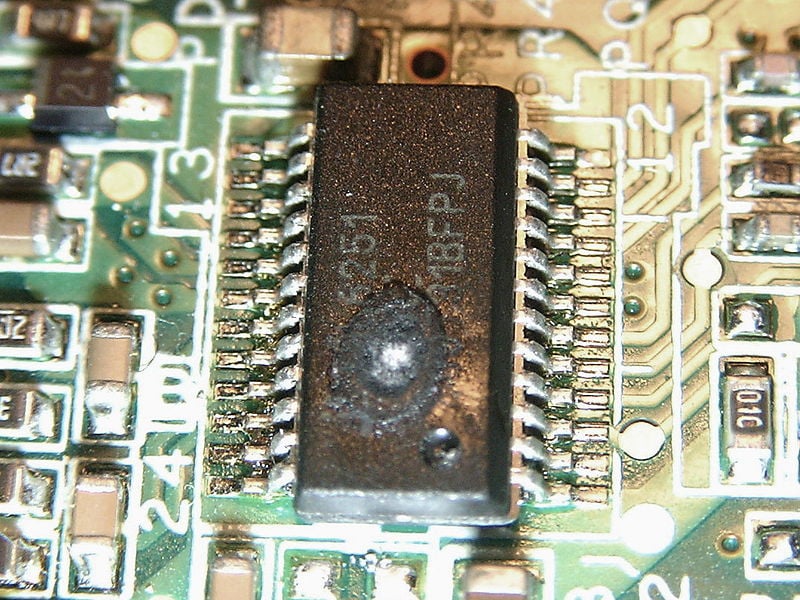 Different thermal expansion rates between components and the PCB will generate tensile and shear stresses and, in the case of thermal cycling, fatigue embrittlement and failure. If the temperature is high enough, substrates and components could melt or even combust.
Because heat can be so damaging to circuit boards and components, methodologies have been developed to identify and measure damaging hot spots in the circuit board assembly. Main methods of measuring heat break into two groups: contact and non-contact. Contact measurement involves using probes or mounting thermocouples. Probes themselves can affect the temperature reading because they often have a greater thermal mass than the components being checked, resulting in an inaccurate reading. When probes are used to test components with a low thermal mass, they contribute to heat dissipation. This is because they measure the specific temperature of the heat being transferred, and not the temperature of the component itself when in operation. Accuracy of temperature measurement with probes is even more problematic when a board relies on forced convection. Thermocouples have their own shortcomings as you first need to know where to mount the thermocouples. If you don't know where the hotspots are, proper testing might involve mounting scores of sensors to a board. A difficult task indeed.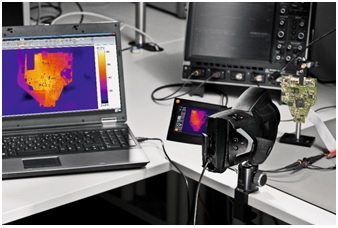 Infrared cameras offer some significant advantages compared to more traditional contact measurement techniques. Infrared thermal imaging is the only method by which credible data can be obtained during normal operating conditions. Infrared cameras can factor greatly in printed circuit board production; for circuit design as well as production testing. Important aspects when considering investment in thermal imaging equipment are time savings and the ability of thermal imagers to give a holistic view when compared to thermocouples. While optimizing circuits, designers can use infrared imagers to check the heat outputs of certain components and make adjustments to minimize overheating. During production testing, thermal imaging is used to spot production problems such as bad soldering connections, improper component placement, polarity reversals and missing components. Being able to see the heat dispersal on the board allows for product design and process improvement.
Features to Look for in Infrared Cameras
Spatial Resolution (Instantaneous Field of View (IFOV)) of the thermal imaging sensor determines the quality of the image that will be portrayed. The higher the sensor resolution, the sharper and more accurate a single point will be on the image, allowing an operator to take more precise measurements and make better decisions. Higher resolutions permit smaller objects to be measured from a greater distance, and this fact alone can influence the purchasing decision based on the user's expected operational environment. Detector resolution is not synonymous with screen resolution. A high-resolution screen can only be as accurate as the resolution of the thermal detector.
Thermal Sensitivity (Noise Equivalent Temperature Difference (NETD)) is another attribute to consider. It represents the smallest difference in temperature that the infrared sensor can distinguish. In other words: the amount of infrared radiation needed to produce an output signal equal to system noise. This value should be as low as possible. Devices with higher thermal sensitivities can detect smaller temperature differences to deliver an image with greater accuracy. Measured in milliKelvins (mK), the lower the mK number, the higher the sensitivity. A low mK number indicates that the camera can sense a wider range of temperature variances and show more colors on its display.
Temperature Range of the instrument is important. Not all applications will require a measurement range that extends to cover very high and very low heat levels. Imaging devices offering a wider temperature range will use sensors that are more expensive, and this will reflect in the price of the instrument.
SuperResolution Technology and Testo's Mid-Range Thermal Imaging Cameras
SuperResolution Technology is available in the Testo 875-1i Thermal Camera offered by RS Components.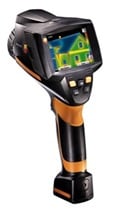 It can be used to quickly and reliably detect thermal anomalies in PCB assemblies. The Thermal Imager is suited to a wide range of professional applications making it perfect for an engineer looking to utilize the power of thermal imaging with a thermal resolution of <50 mK. A laser pointer allows for quick aiming and the integrated digital camera and thermal imager allow you to quickly discover hot spots and assess energy dissipation. SuperResolution Technology can capture extremely high-resolution infrared images (up to megapixel quality) with a Testo thermal imager. The SuperResolution upgrade provides four times as many readings, and a geometric resolution that has been improved by a factor of 1.6 means that you get even more detail and even greater reliability with thermographic measurements. A video reviewing the benefits of SuperResolution Technology can be seen here.
RS Components represent temperature measurement products ranging from basic glass thermometers to high-specification thermal imagers. Whether you need digital thermometers for industrial or food applications, handheld or bench instruments or infrared thermometers, you are sure to find the ideal product here. A selection guide for thermal imaging products can be downloaded on the RS Components website. Please follow this link: Thermal Imaging Selection Guide.
Find Free Electronics Datasheets