A new, highly sensitive camera renders fluorescently labeled cancerous cells visible even under bright surgical lighting. This capability will help surgeons remove all cancerous cells without damaging healthy tissue, reducing the risk that the cancer will spread and the need for multiple surgeries.
The system developed by researchers at University of Illinois at Urbana-Champaign and Washington University in St. Louis generates both traditional color as well as a near-infrared images. The camera's sensing abilities have been combined with an augmented-reality headset to give a surgeon an intuitive view of tumor tissue among similar looking healthy tissue. As the surgeon removes diseased tissue, less and less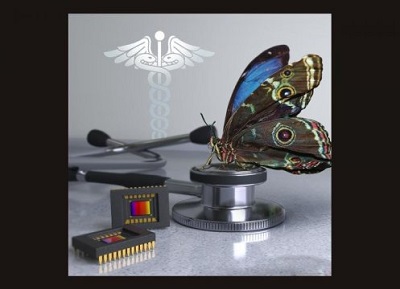 A new camera for detecting fluorescent markers tagged on cancer tumors mimics the visual system of the morpho butterfly. Source: Alex Jerez Roman and Jose Luis Vazquezis highlighted in the augmented reality headset. Once the headset doesn't highlight anything at all, the surgeon can be pretty confident that what needed to be removed is gone while little else has been damaged.
The designers looked to nature's visual systems instead of commercially available optics and sensors for inspiration. The imaging system mimics the intricate visual system of the morpho butterfly, whose eyes contain nanostructures that sense multispectral information and can acquire both near-infrared and color information simultaneously.
The camera, which weighs less than a AA battery and can be manufactured for around $20, represents an advance over available tools viewing fluorescent markers during surgery. Many existing near-infrared cameras lack the sensitivity to detect fluorescence markers under surgical settings, so the room lights must be dimmed to view the fluorescence.
The design replicates the butterfly eye by interlacing various nanoscale structures with an array of photodetectors, enabling collection of color and near-infrared fluorescence information on one imaging device. Integrating the detector and imaging optics into a single monolithic sensor keeps the device small, inexpensive and insensitive to temperature changes.
Sensitivity issues are addressed by allowing each pixel to take in the number of photons needed to build up an image. It doesn't take long to create the visual-wavelength image for viewing the anatomy since the visible illumination in the lab is high. However, because fluorescence is typically dim, it takes longer to collect a sufficient number of photons to build up a sufficiently bright image. By changing the exposure time to allow each pixel to detect the photons it needs, a bright fluorescence image can be created without overexposing the color image of the tissue.
When tested on a mouse model that develops spontaneous breast cancer and using fluorescent labels that bind to cancer cells, the bioinspired imager was shown to enable tumor detection with an accuracy and sensitivity surpassing state-of-the-art infrared cameras approved by the U.S. Food and Drug Administration (FDA) for image-guided surgery.
The ability to identify lymph nodes was also tested in 11 patients with breast cancer at Washington University School of Medicine in St. Louis. The patients were injected with FDA-approved indocyanine green fluorescent dye that accumulates passively in the lymph nodes, after which fluorescence images from the new imager were displayed either on a screen or projected onto goggles worn by the surgeons. The camera proved 1,000 times more sensitive to fluorescence than imagers currently approved for infrared image-guided surgery.
The research is published in Optica.