Taiwan Semiconductor Manufacturing Corp. (TSMC) will cease the manufacturing operations of its wholly-owned subsidiary TSMC Solar, effectively removing the pure-play foundry from the solar module market.
The company blames the closing of its solar operations on late entry into the solar module market as well as the lack of economies of scale, which led to a substantial cost disadvantage against competitors. Located in Central Taiwan Science Park in Taichung, Taiwan, TSMC Solar will honor all product warranties that have been offered to existing customers and TSMC hopes to move employees from the subsidiary over to its main operations.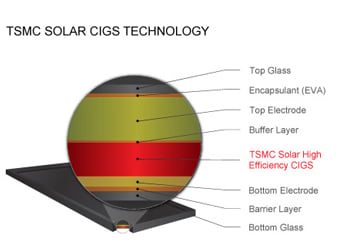 TSMC plans to cease its solar manufacturing operations and will use existing solar inventory in other TSMC buildings. Source: TSMCTSMC says despite its world-class conversion efficiency for copper, indium, gallium and selenium (CIGS) technology, it is not a viable business for the foundry even with an aggressive cost reduction plan. It says it will incur charges related to the closing of the solar fab in the third quarter of this year and will use the remaining solar panel inventory at its buildings and facilities.
Dr. Steve Tso, chairman of TSMC solar and senior VP of TSMC, says in a statement that the foundry still believes solar power is an important source of green energy and that solar module manufacturing is a growing industry, "but despite six years of hard work we have not found a way to make a sustainable profit."
Questions or comments on this story? Contact engineering360editors@ihs.com
Related links:
News articles:
TSMC and Dolphin Team for Internet of Things Subsystems
SMIC, Qualcomm, IMEC in 14nm Process Development Deal
Cadence Receives Certification for TSMC's 16nm FinFET Process
Globalfoundries, Intel Roll Out Support for 14nm Design