SanDisk Corp. has expanded its mobile storage portfolio with a series of wireless mobile flash drives, called the Connect Wireless Stick, that offer a higher capacity and compact design.
The Connect Wireless Stick family offers devices up to 128GB in capacity for sharing, transferring and accessing large amounts of photos and videos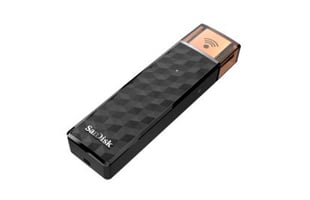 SanDisk's Connect Wireless Stick. Image credit: SanDiskbetween smartphones, tablets or computers. The wireless stick series is capable of supporting a single stream for up to 4.5 hours on a single charge and can be connected via USB.
Dinesh Bahal, VP of product marketing at SanDisk, says in a statement that in the current mobile lifestyle "we use our devices to capture life's moments" and as a result, there is an increased "need for a new generation of mobile storage."
The company is also creating a new app that allows consumers to manage the content in the wireless stick and supports iOS and Android devices, Fire tablets, Mac computers and PCs. The Connect Wireless Stick is available in 16GB, 32GB, 64GB and 128GB capacities ranging in price from $29.99 to $99.99.
Questions or comments on this story? Contact engineering360editors@ihs.com
Related links:
News articles:
SanDisk Warning May Signal Larger Weakness in Enterprise Storage Market
SanDisk Rolls Flash Storage System for Enterprise
SanDisk Targets Next-Generation of Connected Cars
SanDisk Revenues up 7% in 2014