Following its earlier commitment to integrate the new LoRaWAN communication standard with its smart streetlight control system inteliLIGHT, in Paris, Flashnet has demonstrated the new inteliLIGHT LoRa RF Controller.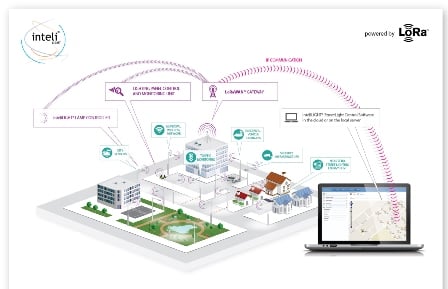 inteliLIGHT-LoRaWAN architecture. Source: intelilight.euThe inteliLIGHT FRE-220 Luminaire Controller was operated through a Class C LoRaWAN network provided by Actility and successfully performed the turning on, off and dimming of the luminaires. The controller is also compatible with LoRaWAN Class A network developed by IBM, meeting the communication requirements of both infrastructures. inteliLIGHT is currently managing tens of thousands of streetlights worldwide, but adapting the system to LoRa communication standards is a first.
"With LoRa we have taken inteliLIGHT, our already proven street lighting management solution, to a whole new level. By adding LoRaWAN to the current PLC and classic mesh RF communication solutions, we can now implement our system with minimal investment, having unprecedented reach and providing unlimited Smart City applications. It truly is a game changer," says Lorand Mozes, CEO of Flashnet.
As it is specifically developed and optimized for LoRa networks, the new controller was designed to be bandwidth efficient, with minimal communication requirements between the street light controllers and the central management software. Besides basic ON/OFF switching and dimming functions, the controllers are capable of operating autonomously based either on predefined schedules or on adaptive algorithms (with integrated light or motion sensors).
The controller also carries out independent measurements and analysis of different lamp electrical parameters (active and reactive energy, current, voltage, active and reactive power, power factor and frequency) and communicates all the information through an advanced synchronization mechanism, while any errors and malfunctions are reported in real time. The entire system is fail-proof and can function independently, even in the case of communication and/or power failures.
In order to avoid the unauthorized extraction of the network and application security keys from the devices, the controllers are equipped with dedicated high-security memory chips for encryption keys storage. This hardware security measure insures that the security keys are virtually unbreakable and that only the authorized personnel can program, update or communicate with inteliLIGHT's devices.
Related Links: