Although several auto manufacturers have offered vehicles with embedded WiFi connections, Audi is the first to offer a high-speed 4G LTE connection in North America, beating General Motors to the market by a few months.
With the Audi MMI Connect interface, the driver can access Google Maps graphics through the navigation system, keep tabs on the news or weather and update Facebook. In addition, the MMI controller has a circular touchpad built into the top of it that allows for text entry via character recognition.
The IHS teardown team took a look at the inside of the retractable display unit of the MMI system.
Teardown summary points:
• Alpine Audi A3 / S3 Retractable Display
• AU Optronics C070VVN03 7" 800x480 LCD Panel
• Renesas R5F64179PFB 16-Bit MCU
• Automotive HSD Interconnect
Target market: Automotive OEM
Pricing: N/A
Availability: Automotive OEM
Total cost (direct materials and manufacturing): $106.61
Major Components:
- Display Module / Window, 7.0" Diagonal, 800 x 480 Pixels, 133 ppi, w/ 1 4-Position Pin Socket Connector - Mfg: AU Optronics Corp. - MPN: C070VVN03 - (Qty: 1)
- Display Module Mounting Bracket, Die-Cast Magnesium Alloy, Painted, Machined - (Qty: 1)
- Enclosure, Main, Mounting Bracket, Die-Cast Magnesium Alloy, Machined, w/ 1 Pressed-In Hinge Pin - (Qty: 1)
- DC Motor, Integral Driving Gear Wheel, w/ 7 Discrete Insulated Wires, 1 8-Position Dual Row Pin Header & 1 2-Position Pin Socket & 2 Momentary Switches, 3 Heatshrink Tubes & 2 Cushion - (Qty: 1)
- MCU, 16-Bit R32C/100 CPU, 50MHz, 1MB Flash Memory, 63KB RAM, 8KB Data Flash, 26-Channel 10-Bit ADC, 2-Channel 8-Bit DAC, 1-Channel CAN, 84 I/Os - Mfg: Renesas Electronics Corp. -
MPN: R5F64179PFB - (Qty: 1)
- Deserializer, 24-Bit, 5-65MHz, w/ Image Enhancement, for FPD-Link II, Automotive - Mfg: Texas Instruments Inc. - MPN: DS90UR916QSQ - (Qty: 1)
- 4-Layer, FR4, Lead-Free - (Qty: 1)
- Regulator, DC-DC Converter, Buck and Boost, 1.5A, 2.1MHz, w/ Internal Power Switches & LDO Controller - Mfg: Linear Technology Corp. - MPN: LTC3570 - (Qty: 1)
- Main PCB Cover, Stamped / Formed Electro-Galvanized Steel - (Qty: 1)
- Automotive HSD, Male, Right Angle, Gold Plated - (Qty: 1)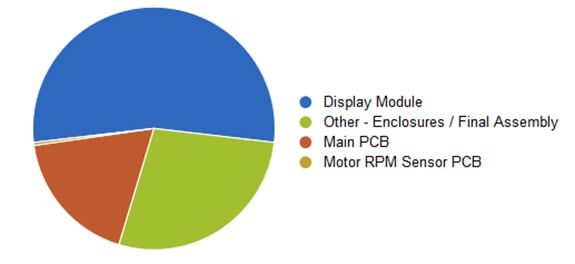 Chart source: IHS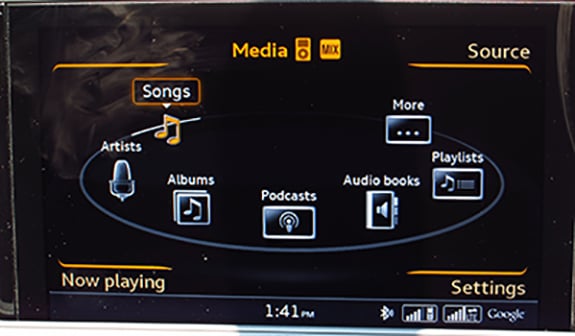 Screen shot. Image source: IHS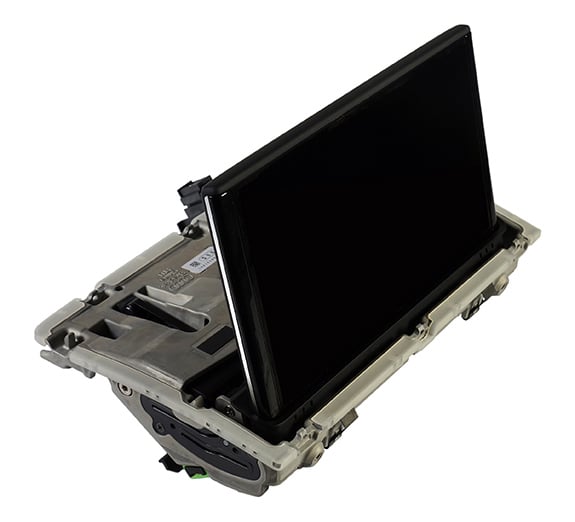 Device overview. Image source: IHS

Main PCB top. Image source: IHS

Main PCB bottom. Image source: IHS