Summary Points
- Motorized Display Unit - Retractable 5.8' LCD Display
- Display part of overall Audi MIB System built by Alpine
- No major processing function
Target Market
Automotive OEM
Released
Announced 2013 Jan
Pricing and Availability
N/A

New A3 in Europe As of 2013
Volume Estimations
295,000 Annual Production Volume
4 Product Lifetime (Years)

For the purposes of this teardown analysis, we have assumed an Annual Production Volume of 295000 units and a Product Lifetime Volume of 4 year(s).

Teardown volume and production assumptions are primarily used for our cost analysis in terms of amortized NRE and tooling costs, especially for custom components specific to the model being analyzed (mechanical components especially). Unless assumed volumes are different by an order of magnitude, minor changes in volume (say 1 million vs. 2) rarely have a large net effect on our final analysis because of this.
Cost Notes
Total BOM: $64.88
Top Cost Drivers below: $49.67
% of Total BOM 77%
Main Cost Drivers below
Au Optronics - C058GW01V2 - Display Module / Window - 5.8' Diagonal, 16.7M Color TFT LCD, 400 x 240 Pixels, 315um x 315um Pixel Size, 126.3mm x 75.6mm Viewable Area, 12 LED Backlight, w/ 1 3-Position Pin Socket Connector- (Qty: 1)
DC Motor - Integral Driving Gear Wheel, w/ 7 Discrete Insulated Wires, 1 8-Position Dual Row Pin Header & 1 2-Position Pin Socket & 2 Momentary Switches, 2 Heatshrink Tubes & 2 Cushion- (Qty: 1)
RENESAS ELECTRONICS CORP - R5F64179PFB - MCU - 16-Bit R32C/100 CPU, 50MHz, 1MB Flash Memory, 63KB RAM, 8KB Data Flash, 26-Channel 10-Bit ADC, 2-Channel 8-Bit DAC, 1-Channel CAN, 84 I/Os- (Qty: 1)
TEXAS INSTRUMENTS INC - DS90UR916QSQ - Deserializer - 24-Bit, 5-65MHz, w/ Image Enhancement, for FPD-Link II, Automotive- (Qty: 1)
Display Module Mounting Bracket - Die-Cast Magnesium Alloy, Painted, Machined- (Qty: 1)
4-Layer - FR4, Lead-Free, Through Hole Via- (Qty: 1)
Hinge Pin - Machined Metal- (Qty: 14)
Enclosure, Main, Mounting Bracket - Die-Cast Magnesium Alloy- (Qty: 1)
Enclosure, Main, Cover - Injection Molded Glass-Filled ABS Polycarbonate, Painted- (Qty: 1)
Pin Header - Automotive HSD, Color Coded Plastic Housing, Right Angle- (Qty: 1)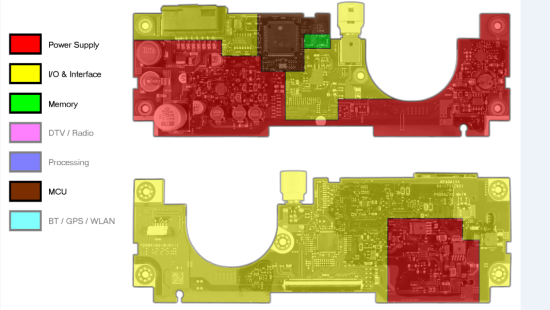 Not Included in Analysis
The total materials and manufacturing costs reported in this analysis reflect ONLY the direct materials cost (from component vendors and assorted EMS providers), AND manufacturing with basic test. Not included in this analysis are costs above and beyond the material manufacture of the core device itself - cost of intellectual property, royalties and licensing fees (those not already included into the per component price), software, software loading and test, shipping, logistics marketing and other channel costs including not only EMS provider and the OEM's margin, but that of other resellers. Our cost analysis is meant to focus on those costs incurred in the manufacture of the core device and exceptionally in some circumstances the packaging and literature as well.
We do provide an Excel tab 'Overall Costs' where a user can enter their known pre and post production costs to build a per unit cost reflective of theirs actual expenditures.
Country of Origin
For the purposes of this analysis, we are assuming the following country(ies) of origin for each level of assembly, based on a combination of 'Made In' markings, and/or assumptions based on our knowledge of such equipment.

Box Contents - China
Display - China
Display PCB - China
Misc PCB Assemblies - China
Other - Enclosures / Final Assembly - China

Country of origin assumptions relate directly to the associated cost of manufacturing, where calculated by iSuppli. In the cases of 'finished' sub-assemblies (such as combo modules), we do not calculate internal manufacturing costs, but rather assess the market price of the finished product in which case country of origin assumptions may or may not have a direct effect on pricing.
Labor rates are applied directly only to hand inserted components and systems in our bill of materials, and although regional assumptions do, these new rates do not have a direct effect on our modeled calculations of placement costs for automated SMD assembly lines. "Auto inserted components (such as SMT components) placement costs are calculated by an iSuppli algorithm which allocates a cost per component based on the size and pincount of the device. This calculation is affected by country or region of origin as well.
Design Complexity
Component counts by assembly and the number of assembly are indicators of design complexity and efficiency.

Component Qty: 132 - Other - Enclosures / Final Assembly
Component Qty: 1 - Display
Component Qty: 405 - Display PCB
Component Qty: 5 - Box Contents
Component Qty: 5 - Misc PCB Assemblies
Component Qty: 548 - Grand Total