UK-based chipmaker Dialog Semiconductor plc has rolled out a wearable-on-chip Bluetooth smart device designed to enable smaller, lower power and lower priced next-generation wearable electronics devices.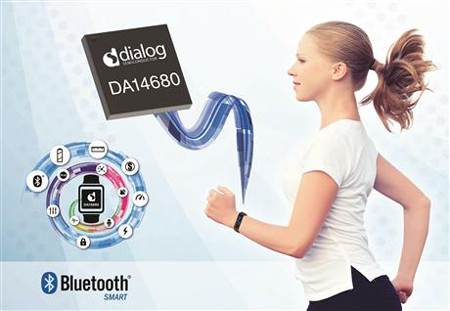 Source: Dialog Semiconductor.The DA14680 chip can be used for sensor control, analogue and digital peripherals for wearable products in order to create smaller form factor devices, according to Dialog. The device integrates 8 Mbit flash memory, audio support with pulse-density modulation and I2S/pulse code modulation interfaces, two separate I2C and SPI buses, three white LED drivers, a temperature sensor, multi-channel DMA and an 8-channel, 10-bit ADC.
In addition, on-chip are system power rails, a Li-ion/LiPo battery charger and fuel gauge for intelligent power management. Security features of the wearable-on-chip include a dedicated hardware crypto engine with elliptic curve cryptology (ECC) for end-to-end banking-level encryption, the company says.
Sean McGrath, senior vice president and general manager of Dialog's Connectivity, Automotive & Industrial business group, says in a statement that the wearables market is "fiercely competitive in terms of design aesthetics, cost, functionality, battery life and product life cycle." The DA14680 will address these needs, as well as for other emerging Internet of Things (IoT) applications.
The chip will begin sampling in the second quarter of this year.
Questions or comments on this story? Contact peter.brown@globalspec.com
Related links:
News articles: