In an effort to facilitate regulatory approval for its merger with Freescale Semiconductor Inc., NXP Semiconductors NV has agreed to sell its radio frequency (RF) power business to a Chinese state-owned investment company.
Under the agreement, NXP will sell the RF power business to Jianguang Asset Management Co. Ltd. (JAC Capital) for $1.8 billion. The entire scope of the business and about 2,000 related employees will be transferred to a new independent company incorporated in the Netherlands. JAC Capital will own 100% of the new company.
The deal includes all patents and intellectual property associated with the RF power business as well as a back-end manufacturing facility located in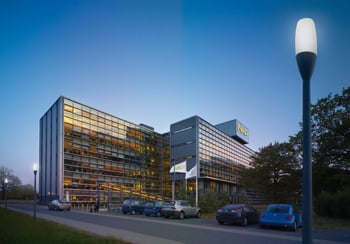 NXP international headquarters in the Netherlands. Source: NXPthe Philippines that creates advanced packaging, test and assembly for the RF power devices, NXP says.
In March, NXP announced it was going to acquire Freescale for $11.8 billion. At that time, Rick Clemmer, president and CEO of NXP, said the company planned to dispose of NXP's RF business so that the merger would not attract regulatory scrutiny and that NXP had already engaged potential buyers for the business.
NXP's RF business accounted for less than 10% of company's revenues in 2014.
In a statement, Clemmer says that NXP was hoping to achieve a higher valuation for its RF business. But JAC Capital's "ability to support continued growth and development of the business and its ability to sign and close a transaction rapidly" was a key factor in the agreement, Clemmer says.
Clemmer adds that the deal was necessary for NXP in order to close the Freescale deal.
The deal is expected to close in the second half of 2015, pending regulatory approval. NXP says the proceeds from the sale will take effect in the fourth quarter of 2015 and 2016.
Questions or comments on this story? Contact dylan.mcgrath@ihs.com
Related links:
News articles: