According to IHS, Philips Lumiblade was the world's largest producer of OLED panels in 2014, so why is Philips now pulling out of the OLED industry?
Historically, the OLED lighting industry has struggled to enter the mass market, but there have been some recent notable success stores. For example, Seoul National University recently announced the installation of 1,100 LG OLED luminaires in their library, making it the largest OLED installation in the world.


LG, however, has also announced that it would delay the launch of new high efficiency 100lm/W OLED panels until next year, which indicates that while consumers might now be beginning to see the lighting benefits of OLED panels, the much anticipated tipping point for the technology is not yet ready for the market.
On the other hand, OLED displays are very much the "in thing" in the displays industry. Not only has Apple recently announced that, for the first time in any commercial Apple product, the company will use OLED displays in its newest smart watches, but Samsung also recently announced a $3.6 billion commitment to its OLED production and research line, splitting it out into a separate advanced-technology unit.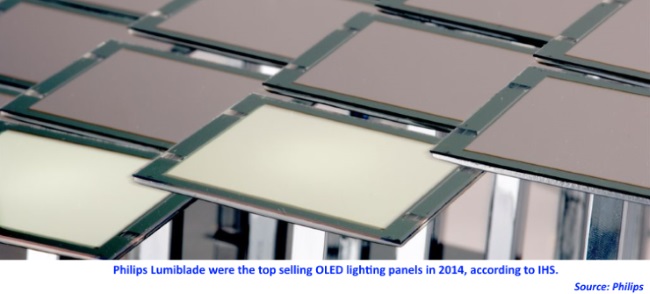 The overall short- to medium-term opportunities for the OLED lighting market remain in the balance. The reasoning behind Philips's decision to exit the OLED market might simply be a case of priorities.
After all, Philips has experienced a year-over-year 3 percent decline in its lighting business. With an industry as volatile and unpredictable as OLED lighting, it is likely being sold so they can concentrate on slowing the decline of their core lighting business and strengthening their position in their growing LED lighting business. If the OLED lighting industry starts to take off in the future, however, we could eventually see an ex-Philips OLED business that directly competes with its former parent company.
Questions or comments on this story? Contact dylan.mcgrath@ihs.com
Related links: