ARM Holdings plc has launched a complete suite of IP cores for mobile application SoCs to be deployed in smartphones in 2016 – covering a high-end 64-bit processor the Cortex-A72, the Mali-T880 GPU and the coherent cache interconnect that unites them.
At the same time ARM (Cambridge, England) has discussed some of the expected use cases behind the level of performance it is providing, including the idea that larger format high performance smartphones are already squeezing out tablet computers. ARM did not provide details of the cores, saying that more information would be made available to people beyond its licensees in April.
The IP suite has been optimized for the 16nm FinFET manufacturing process in preparation at foundry Taiwan Semiconductor Manufacturing Co. Ltd. and the Cortex-A72 is accompanied by a POP optimization option for that process and reckons it is possible to clock the Cortex-A72 at 2.5GHz in that process.
And ARM has plenty of licensees for the mobile suite of IP.
Ian Ferguson, vice president, segment marketing at ARM, named MediaTek, HiSilicon and Rockchip out of more than ten companies it has signed so far. These three are companies are used to competing away from the leading-edge which has been dominated by Apple, Qualcomm and to a lesser extent Samsung.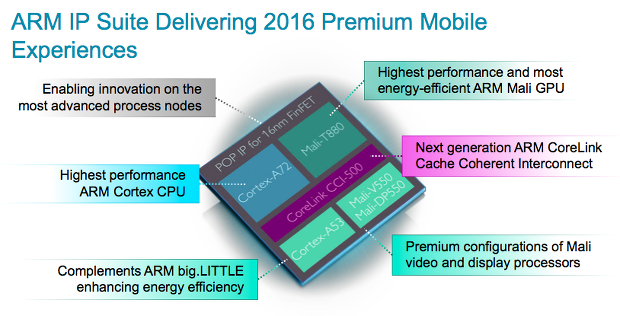 Apple and Qualcomm have made use of architectural licenses from ARM to blaze the trail in smartphones but clearly the latest round of improved high-end cores will help Chinese and Taiwanese fabless chip companies compete. It is also recognition of the central role now played by the Chinese market in the development of the mobile equipment market.
Benchmarking
Ferguson gave some rather difficult-to-decipher benchmark comparisons of performance. So the Cortex-A72 in 16nm FinFET is expected to provide 3.5 times the performance of a Cortex-A15 in 28nm planar CMOS within the same smartphone power budget. Clearly that is an advantage but much of it is created by the migration of process technology. Similarly, Ferguson claimed that Cortex-A72, when matching the performance of a Cortex-A15 in 28nm could deliver a 75 percent reduction in energy consumption.
Regardless of whether the performance improvement is mainly due to ARM's deisgn or the manufacturing technology the Cortex-A72 is essentially ARM's re-optimization of its Cortex-A57 for the 16nm FinFET node. In big-little configurations the Cortex-A72 will be the big to the Cortex-A53 core's little.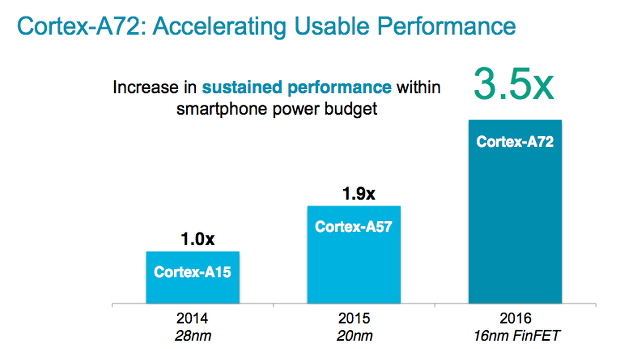 Ferguson said ARM is open to its IP being ported to other manufacturing process technologies but that it was a customer-driven organization and the TSMC 16FF process was the current announcement. "Partners may put the IP into different process nodes depending on timing," Ferguson said. Ferguson clearly held out the possibility that the mobile IP cores would be, or are being, ported to Samsung's 14nm FinFET process, which is also set to be available from Globalfoundries, but he declined to be drawn.
For display and video processing alongside the Mali-T880 there has been no equivalent upgrade with ARM continuing to offer the DP550 display controller and the V550 video controller. Nonetheless the graphics upgrade is capable of generating 4K120fps resolution graphics suitable for running games and videos at the highest resolution.
The CoreLink CCI-500 cache coherent interconnect delivers double the peak memory bandwidth and 30 percent increase in processor memory performance compared with the previous generation CCI-400. Importantly CoreLink CCI-500 supports ARM TrustZone technology for a secure media path enabling protection of multimedia content when used with the Mali product family. Such protection will only become more important as smartphones are used to generate and play back content.
ARM's point of view
What Ferguson did say is that mobile phones in 2016 would be much more capable because they would be increasingly used to create content, rather than just consume it. This could most obviously be with video content for posting online but could also be much more varied including visual processing for such things as 3D printing. "There's a rich set of new applications coming around cameras on smartphones," Ferguson said in conference call held to discuss the IP cores.
Similarly the smartphone interface the its user and the outside world is becoming much more sophisticated combining an increasing sensor set and the need to interpret sensor data locally rather than sending out to the Internet for cloud support. Human interface techniques such as gesture and facial recognition will become standard in future smartphones. Ferguson also made the prediction that higher levels of processing are required because for many people the smartphone is becoming the primary, and sometimes only, means of access to the Internet.
Ferguson also made the prediction that the larger smartphone display sizes that made mobile working on a smartphone possible would start to squeeze the tablet computer market. He said that clearly the personal computer still had a place in business and would continue for some time but that ARM discussions with CIOs clearly indicate a desire for mobile devices that are secure enough for business content.
Questions or comments on this story? Contact dylan.mcgrath@ihs.com
Related links and articles:
IHS Semiconductors & Components
News articles:
Apple, TSMC and the Seven Customers of 16FF+
Intel, Rockchip Offer Two-Chip ARM Platform
China's HiSilicon First on TSMC FinFET Process
Marvell Adds Octacore to LTE Mobile Processor Range