PsiKick Inc. (Charlottesville, Virginia), a semiconductor startup formed by professors at University of Virginia and the University of Michigan in 2012 to work on low power sub-threshold operation wireless sensor nodes and networks, has raised an undisclosed Series A round of equity funding led by New Enterprise Associates. Osage University Partners and MINTS, a University of Michigan venture fund, also participated as new investors in the round.
However the company has already taped out its first silicon and won multiple contracts with Department of Defense agencies and engaged with more than 20 customers for its wireless sensor platform.
The wireless sensor node SoC developed consumes between 100 and 1000 times less than any comparable chip, the company claims. This is sufficiently low to allow battery-less operation based on energy harvested from one or multiple sources.
The SoC was developed in standard 130nm CMOS process with Cadence EDA tools but utilized innovations in circuit design and sub-threshold voltage operation. The SoCs feature analog front-ends, on-chip programmable DSP and memory, hardware accelerators for certain functions, integrated power management, RF communications across multiple frequencies and integrated energy harvesting.
As a result the PsiKick chip can operate on energy scavenged from the surroundings, including indoor solar, RF rectification, acoustic wave, thermal gradient, piezoelectric vibration. The "proof-of-concept" chip is a wireless, battery-less electrocardiogram (EKG) sensor that operates continuously at 19-microwatts including the RF.
PsiKick was founded by David Wentzloff, University of Michigan assistant professor of electrical engineering and computer science, and Benton Calhoun, associate professor of electrical and computer engineering at the University of Virginia, and Brendan Richardson, the company CEO.
The founders have more than a decade of experience working in sub-threshold and near-threshold designs of analog and digital blocks. They claim to be the first team to successfully integrate a complete wireless sensor system-on-chip that operates using sub-threshold techniques. This power-saving technique combined with novel on-chip power management, and power RF circuit design results in SoCs with power consumption that is "100 to 1000 times lower with the same or greater functionality than any comparable SoC found commercially or in research," the company claims.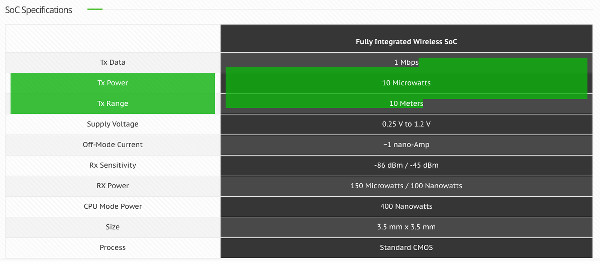 PsiKick proof-of-concept SoC specifications. Source: PsiKick
Conventionally transistors have been operated a long way above the threshold voltage where it first turns on. This was partly because early design was analog and design was easier where transistors operated in a linear region. However as active power consumption is proportional to the square of voltage there is a pressure to take the voltage down close to or even below the threshold where a transistor can be turned on and significant current flows – in the region of 0.3-0.6V. Though transistors can be characterized at these near- and subthreshold voltages and consume much less energy there, switching times are longer performance lower but energy efficiency is higher.
Sub-threshold operation exploits the fact that the transistor drain current does not immediately fall to zero. Sub-threshold processing utilizes this ordinarily unwanted leakage current to perform useful operations.
The SoC developed by PsiKick is described as a platform because of the building block way it has been put together. This means that analog front-ends, hardware accelerators, standards-compliant radios can be swapped in and out for different applications. These applications can include body-worn and body-powered bio-sensors, agriculture, infrastructure monitoring, quantified human applications. PsiKick is already believed to have received interest from the military for use in soldier monitor and reporting systems.
"Brendan and his team are integrating the state-of-the-art in ultra-low power processing, power management and next-generation wireless concepts to produce a novel ultra-low-power system," said Greg Papadopoulos, Venture Partner at NEA. "The resulting platform is a stunning technological achievement and a gateway to the next wave of wearable devices."
"It's a race to the future when it comes to delivering low-power IC platforms, and PsiKick is well ahead of the pack," said Forest Baskett, general partner at NEA. "By reducing power budget to a mere fraction of other energy-efficient systems, PsiKick's platform has the potential to dominate a nascent and fast-growing market as the Internet of Everything becomes reality."
Baskett and Papadopoulos will both join PsiKick's board of directors in conjunction with the financing.
With the development PsiKick joins an elite group of companies working on sub- and near-threshold electronics.
Fabless startup Ambiq Micro Inc. (Austin, Texas) has been preparing to start sampling an ARM-based microcontroller that operates transistors near and below their threshold voltage in 2014. Ambiq is backed by ARM Holdings plc (Cambridge, England).
ARM is also working on its own on a processor core optimized for operation close to the threshold voltage of CMOS transistors and at clock frequencies of the order of tens of kilohertz. ARM has done multiple internal designs in research and in 2013 it was announced that the company was developing a near-threshold microcontroller core for the Internet of Things (IoT) and other embedded applications.
Related links and articles:
News articles:
Freescale to Foundries: Help Us With Threshold-Voltage MCUs
IoT Startup Spins Out of UK Consultancy