NeuroMem Inc. (Petaluma Calif.) is a startup company formed by two experts in visual computing and Philippe Lambinet, a former corporate strategy officer at Europe's largest chip company STMicroelectronics NV. NeuroMem was formed in November in 2014 and its first move has been to launch an Indiegogo crowd-funding project to give the maker movement access to its CM1K neural networking chip.
The BrainCard is an open source hardware platform featuring the CM1K neural network chip, which comprises 1024 artificial neurons. It is able to learn and recognize patterns, whether in data or from physical sensors and the Braincard is being offered as reward for backing the project to get the boards into mass production. The Braincard can connect to other popular electronics platforms; including the Raspberry Pi, Arduino and Intel Edison, the project web-page states.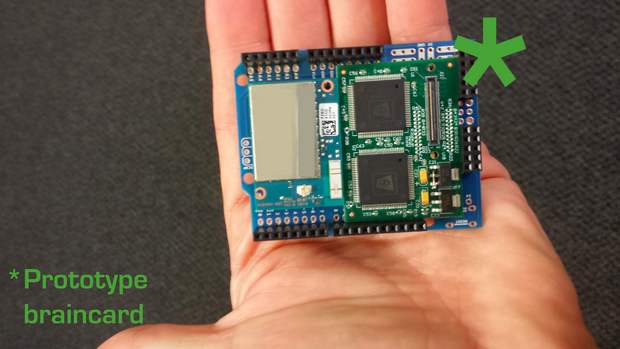 Prototype of the BrainCard. Source: NeuroMem.
The web page encourages "makers" to add pattern recognition to robots, toys and digital cameras through three "simple" steps. Step one is to connect the BrainCard to the microprocessor or device of choice. Step two is to teach the BrainCard examples of what data to recognize and three is to set an alert to notify the use when objects have been recognized.
"We aim to help you add cognitive perception to any electronics project," is the claim on the project's Indiegogo page. Backers can donate between $5 and $2,499 and in return get anything from an honourable mention and a pack of 20 Braincards with an estimated delivery date of July 2015.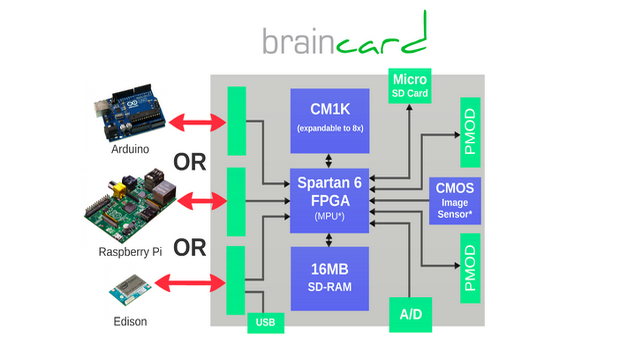 BrainCard layout. Source: NeuroMem.
The CM1K, a 130nm CMOS circuit that was developed, at General Vision Inc. (Petaluma, Calif.), the company formed by visual computing experts Guy Paillet and Anne Menendez who also co-founded NeuroMem.
CEO and NeuroMem co-founder Philippe Lambinet, said NeuroMem is taking over ownership of the relevant intellectual property and will supply the CM1K chip, boards and develop derivatives of the technology.
He stressed that the Indiegogo is essentially a marketing exercise that is intended to be self-funding. It is separate from a conventional round of equity funding that is being conducted in parallel to develop a more traditional OEM business based on neuromorphic ICs, Lambinet said.
"Going to the maker community is a great way to show the world what you can do with the technology." Lambinet also said: "We expect makers to develop applications that we have not even thought of. We also expect universities and research labs to use this channel to access this technology and develop amazing innovations with our technology."
For the business community NeuroMem is offering a range of boards targeting primarily the big data analytics market and the industrial vision market," said Lambinet. "At the same time we are offering licenses for our technology to selected players in the IoT [Internet of Things] and consumer spaces because our technology gives brains to sensors and these players are much better equipped than we are to address extremely high volume markets with their SoCs."
Lambinet said that in the future NeuroMem will address other market segments, such as medical, military, security and automotive, which tend to be slower to ramp but which he expects will also be extremely valuable in time.
Neuromorphic trend
NeuroMem is not alone in working on hardware implementations of neural networks.
IBM has a developed TrueNorth, a 28nm chip that contains one million neurons and 256 million synapses in a die area of 4.3 square centimeters (see IBM Seeks Customers For Neural Network Breakthrough). Qualcomm is in a research collaboration with Brain Corp. (San Diego, Calif.) to develop a neural processor architecture to provide human-brain like cognition and processing for mobile computing (Qualcomm Working on Neural Processor Core). And startup TeraDeep Inc. (Santa Clara, Calif.) was formed in 2013 to commercialize research into multilayer convolutional neural networks used for cognitive vision processing. There is also an added value reseller of the CM1K, CogniMem Technologies Inc. (Folsom, Calif.).
Lambinet said that NeuroMem would pursue both a fabless chip company and IP licensing business models and apply them depending on the end market. It would use its funding round to engineer a die shrink of the CM1K and to create simpler and more complex versions of the architecture, he said.
"We need a cost reduction of the CM1K. But some applications don't need 1024 neurons. Boards and development kits will also be necessary and significant business. It is like the beginning of the microprocessor revolution," Lambinet said.
"The 70s saw the emergence of the microprocessor. During the 80s came the DSP. The GPU started to grow in the 90s. It is now time for 21st century technology to emerge because the amount of data to process is just too much for these Von Neumann based architectures of the 20th century," Lambinet conluded.
Related links and articles:
www.general-vision.com
News articles:
IBM Seeks Customers For Neural Network Breakthrough
Startup Preps Neural Network Visual Processor for Mobiles
Intel Follows Qualcomm Down Neural Network Path