The AVnu Alliance, an industry consortium working to create low-latency, deterministic networking based primarily on the Ethernet, has announced the creation of an industrial aspect to its work. It has also added three companies with an industrial interest – Belden, National Instruments and General Electric – to its membership roster.
The Alliance started out as a organization for certifying products' compliance to the Audio Video Bridging (AVB) extension to Ethernet. This provided a level of low-latency to the otherwise non-deterministic Ethernet to make it suitable for transmitting audio and video streams in consumer electronics.
From there the group has expanded into pro-audio and automotive communications where similar levels of time-sensitivity exist. The group has over 80 members including Broadcom, Cisco Systems, Imagination Technologies, Intel, Marvell, Micrel, NXP Semicondcutor, Xilinx and XMOS. The AVnu Alliance has previously announced support for TSN in automotive applications such as drive-by-wire and autonomous driving.
"IEEE802.1 has added AVB features but vendors can implement these things differently, which is why there was a need for a compliance and certification body," said Todd Walter of National Instruments. "AVB went in the right direction for industrial applications but it did not go far enough," said Walter.
Capabilities in support of time sensitive networking (TSN) are now being added to AVB under IEEE802.1 working groups to provide the industrial community with the ability to use standard Ethernet to support networked industrial control. These developments will allow low-latency control traffic and standard Ethernet traffic to co-exist on the same network while supporting demanding applications such as multi-axis motion control, computer vision systems and robotics.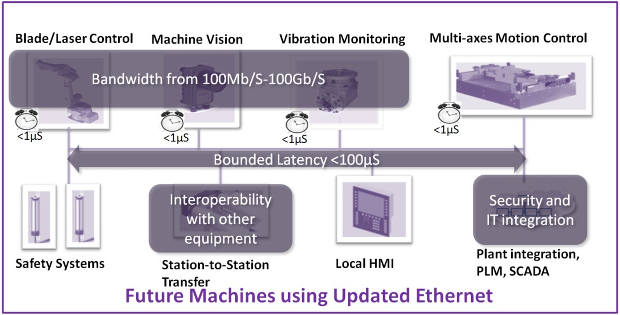 Latency and bandwidth guidelines in a vision of Industrial Ethernet. Source: AVnu Alliance.
TSN over Ethernet is also likely to be a key enabler of the Internet of Things within the industrial and production environments. Belden, General Electric and National Instruments will now be working within AVnu to develop those things needed for industrial applications based on AVB/TSN.
"TSN technology shows promise to be the core technology for high-end industrial Ethernet communications in the future, solving challenges faced by our customers in demanding, high-performance and high-precision industries, like motion control, robotics and high-speed manufacturing," said Andreas Dreher, strategic technology manager at Belden, in a statement issued by the AVnu Alliance.
Walter said there no fewer than seven working groups – PARs – open, under IEEE 802.1 covering different aspects of industrial-grade networking. Some are likely to complete there work in 2015 others may take until 2016, he said. But the opening of an industrial chapter under the AVnu Alliance, would be a way to influence that standardization process, he said.
Dave Sexton, of General Electric, said that while it was true that most industrial Ethernet deployments would be at 1-Gbit per second and lower, time sensitivity networking needed to be able to scale.
"10-Gig, 100-Gig Ethernet is much more difficult to implement. 100G-Ethernet is more of a back-plane technology but time sensitivities may need to be agnostic to the speed of data transmission. When it does make sense the standards will be able to support it," he said.
The AVnu Alliance has created an Industrial Advisory Council for manufacturers and end users to learn more about the Alliance and the standards and to get involved with shaping the future of industrial networking. More details can be found at the organization's website.
Related links and articles:
IHS industrial communications research
Industrial Ethernet Infrastructure Components Report - 2015
News articles:
Freescale Acquires Zenverge to Advance IoT Security
Industrial Chip Market on Pace for 13% Growth
Infineon, Deutsche Telekom Team On Industrial Security