Dramatic changes in automobile design subsystem are not limited to the power train (whether internal combustion, all electric, or hybrid), infotainment systems, heads-up displays, networking, or ADAS (advanced driver assistance systems), as even the "mundane" vehicle-headlamp technology is seeing major innovation. The traditional filament-based incandescent bulb is almost completely gone, and has been replaced by halogen lamps, with LED-based headlamps in production, and a laser-source/mirror assembly is coming in the 2015 BMW i8 sports car.
"Automotive continues to be a growth market for LED manufacturers in 2014," said Jamie Fox, IHS principal analyst for LEDs and lighting. "IHS's LED Driver IC report forecasts that the market for LED driver ICs in automotive exterior applications will grow from $57.5 million in 2013 to $117 million in 2019 with a compound annual growth rate (CAGR) of 12.6 percent ($69.4 million is expected to be garnered in 2014). IHS believes that Texas Instruments is the market leader for LED driver ICs, based on total revenue."
Nor are headlamps necessarily fixed in their physical orientation: for example, the BMW Series 7 offers steerable lamps with their aimed position (up/down and left/right) controlled by small motors or actuators.
However, these motors and their associated gear train assemblies are complex, costly, and relatively large (and have potential reliability issues), so vendors are looking to use a matrix of LEDs in an array which can be steered electronically, without any moving parts. The challenge of managing such an adaptive "beam forming" matrix with LED arrays is controlling the individual LEDs, which can require a significant amount of driver switching circuitry along with space-consuming wiring paths to each LED.
That's where the Texas Instruments TPS92661-Q1 comes in, claimed to be industry's first fully integrated LED matrix manager for adaptive automotive-headlight systems. This IC is not a power-supply or LED driver. Instead, it takes power from a separate buck (step-down) supply and intelligently routes it to up to 12 LEDs. This enables a matrix-beam solution where each LED can be individually controlled; up to eight TPS92661 devices can be interconnected with a single control port, yielding an easily scalable configuration for controlling 96 LEDs, TI said. This is needed for headlight applications, where the adaptive beam-forming technique requires control of each pixel (here, an LED) in the array.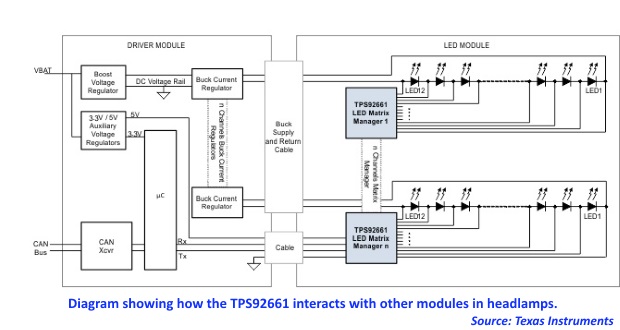 The IC uses shunt FET-based dimming for large arrays of high-brightness LEDs, with a 12-switch series array for bypassing of individual LEDs in the series string. TI claims this is a vital feature, as the open-mode failure of any single LED makes the entire LED string go dark if the LEDs are wired in the standard series configuration.
Other features include multi-drop universal asynchronous receiver transmitter (UART), internal charge pump, an individual driver, overvoltage-protection circuit and diagnostics circuit.
The TPS92661 is available now priced at $3.70 each in 1,000 unit quantities.
Related links:
News articles:
Cree Rolls High-Power Lighting LEDs
Blue LED Inventors Win Nobel Prize
Auto Electronics Developers Face New Challenges
IC Makers Face Hurdles in Auto Infotainment
Cameras in Motor Vehicles to Grow More Than Fivefold by 2020