As auto makers open up their vehicles to new infotainment features and services sparked by consumer demand, their long-established semiconductor suppliers are finding that their biggest challenge may just be competition from manufacturers offering semiconductor devices for the mobile and consumer electronics arenas.
But the "newcomers" are facing hurdles, too, as they slowly learn what it takes to meet auto makers' expectations – higher quality levels, harsh environment survivability, better security, faster design times, and shorter verification and validation cycles.
To satisfy the consumer's thirst for advanced human-machine interfaces (HMI) and constant connectivity – which they already experience on their smartphones and now want in their vehicles – the auto makers are upgrading electromechanical dials to digital instrument clusters, and AM/FM tuners to software-defined radios with multiple digital terrestrial tuner technologies, or offering satellite radios. Meanwhile, knobs and buttons have given way to center consoles or head units with embedded vehicle navigation, touch screen displays, and Internet connectivity.
All of this is happening in an overall automotive infotainment space that has grown from $6 billion in 2012 to $6.1 billion in 2013 (including OEM and aftermarket systems revenue), and will likely expand another 2% in 2014, according to Luca De Ambroggi, principal analyst, automotive semiconductors, at IHS.
Long-time supplier to the auto industry NXP Semiconductors was in first place for 2013 with 11.6% of the auto infotainment sector revenue followed by Renesas Electronics with 11.2%, ST Microelectronics with 7.3%, Toshiba with 6.6%, and Freescale Semiconductor with 6.1%, says De Ambroggi. These last few years, however, other players have been entering the market as "opening up the car to the external world via telematics and connectivity to the cloud is creating the possibility of new business for 'newcomer companies' that wasn't available before."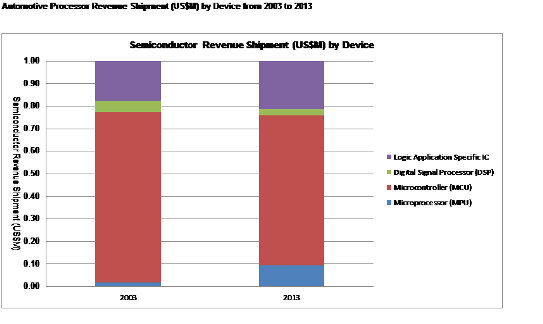 Source: IHS
For instance, Nvidia and Qualcomm – both leaders in mobile phones and application processors for mobile devices – are "successfully jumping into automotive, but don't yet have the strength and structure to completely support automotive-qualified components, to support their quality, or to support the components for the long term, which is what is needed in automotive," De Ambroggi adds.
So far, Nvidia has successfully increased its automotive share by building "a very nice graphics solution for Harman and other tier ones," De Ambroggi says, with Nvidia's Visual Computing Module, an automotive-grade module that features a multi-core Tegra processor to power infotainment systems and digital instrument clusters.
And, in January, Qualcomm's Qualcomm Technologies subsidiary added an automotive-grade infotainment chipset, the Snapdragon 602A applications processor, with a quad-core Krait CPU, Adreno 320 GPU, Hexagon DSP, integrated GNSS baseband processing, and additional high-performance audio, video, and communication cores.
But Intel was less successful in promoting its Atom processor to auto makers, De Ambroggi observes, which illustrates how difficult it can be for even the world's largest semiconductor maker to feed into the automotive supply chain.
"Despite the fact that infotainment is relatively easy to build in terms of quality – especially compared to the safety-critical portions of the car -- you can't underestimate the support a supplier needs to bring to the automotive supply chain in terms of structure," he says. "For example, if you find a bug and need to change even a single transistor, you have to create a mile of documentation to justify why you needed to make the change. Auto makers make huge efforts to have 0 ppm quality because one failure can result in an incredibly expensive recall, as Toyota and GM have recently experienced."
At Renesas Electronics, a long-time supplier to the automotive market, the Japan-based semiconductor maker's latest R-Car H2 devices combine the company's "integrated cockpit vision" with an advanced driver assistance system (ADAS) that can deliver such popular capabilities as cloud connectivity, 3D navigation maps, infotainment formats like TV and DVD, views from forward- and rear-facing cameras, warnings of adjacent vehicles, and so on.
"The goal is to give the driver the full infotainment experience – letting them bring their phone or mobile device into the car, giving them full access to the Internet, letting them stream content, look at new map data, get updates, do text messaging, answer the phone with Bluetooth, navigate Internet radio content, and navigate much broader databases of music content," says Brian Pluckebaum, senior product marketing manager, Renesas Electronics America.
"It's imperative that they have new ways to access all that information without being distracted," he says. "And so they need more speech capability in the vehicle – continuous speech, natural speech, talking to the car without having to hit buttons or do anything other than just start talking. These require a lot of CPU performance – something in the area of 10,000-plus DMIPS – in order to make certain it doesn't degrade the user experience, because users are really sensitive to how the entertainment system behaves in the vehicle. They don't want to press a natural speech button and have their navigation become slow and sluggish."
Another hurdle for semiconductor makers is adapting to the design schedule of the automotive space. While a consumer device may take six to nine months to design, the typical car design timeframe can be as much as four years.
"What we've learned to do is design beyond what is today's latest and greatest," adds Renesas' Pluckebaum. "We think about, say, what's going to be the standard interface in the model year 2020 vehicles and then design with that in mind for our chips that come out in model year 2015. When the chips first roll out, some may say their performance may seem like overkill. Maybe, but when you need to 'crystal ball' it and design for where the market is going, your parts can never be too powerful."
At Freescale Semiconductor, which joined the connectivity evolution in 2007 with its i.MX applications processors, the company's quality strategy is to build just one version of its devices rather than one for consumer and a second for automotive, says Dan Loop, business development manager for automotive applications processors.
"We know the automotive development cycle is typically 2-3 years," he explains, "so we get experience with consumer sales for 1-2 years before automotive kicks in, which really helps to clean that quality pipe. We get a lot of market feedback as customers beat on the parts before the auto customers ever get production. That gives us ample time to go in and make fixes if necessary, and then have the parts ready for automotive the second they're needed."
Freescale also has a longevity program in which its devices are guaranteed available to the auto makers for up to 15 years.
"Typically the consumer suppliers stop supporting their products after four or five years because they aren't valid in the consumer space anymore," says Loop. "Our program gives the automotive customers the peace of mind that, if they want to keep building the same system for 10-15 years, they can."
Freescale also focuses on scalability, says Loop, offering pin-compatible products that let the OEMs decide what level of performance they want to put in their vehicles. Should they choose to increase performance at a later date, Freescale has a processor that will drop right into the system with no software changes necessary.
The next big push – the one that will drive semiconductor development in coming years – will be in security, says IHS' De Ambroggi, especially since there is a need to have a hardware firewall separating the infotainment system where the telematics link opens the door to the external world.
"In principle, a hacker can enter via a smartphone or cellular link and tamper with the car," he explains. "Previously, automotive semiconductors didn't have any kind of security feature but now all the big semiconductor makers are looking carefully at what I believe will be the next necessary step in development -- which needs to be in hardware, not software. Everyone who has a PC at home knows how easily software security can be broken. No one wants the same thing to happen in their cars."