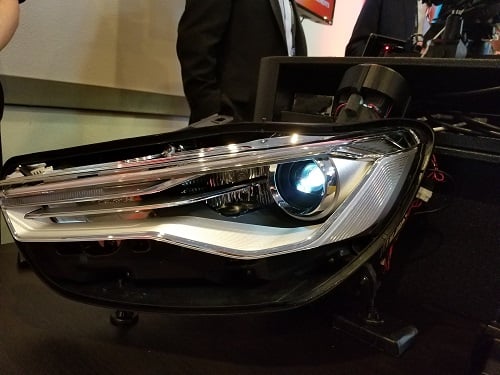 The TI DLP headlight technology demo at CES 2018. Source: Peter Brown/Electronics360At last week's CES 2018, Texas Instruments introduced its first DLP headlight system for high-resolution projection of light through automotive headlamps allowing for full programmability of headlights, as well as the ability to create custom navigation markers directly on the road.
TI says automakers can utilize the adaptive driving beam (ADB) technology to provide increased brightness for drivers on the road while at the same time minimizing the glare inflicted upon other traffic. The technology works with any light source including light emitting diodes (LEDs) and laser illumination.
"We are bringing to market over 1 million pixel resolution per headlight, which is more than 10,000 times the resolution of headlights today," Brian Ballard, exterior lighting manager for DLP Automotive at TI told Electronics360 at CES. "The trend in automotive lighting has been moving from static headlamps to more a dynamic headlamps. This is taking an LED light source and reflecting it off a DLP mirror device and pixelating the headlight."
The anti-glare feature inside the DLP chipset, which is sampling now and will be broadly available beginning in the second quarter, masks the light to oncoming traffic or cars that are in front of the vehicle.
"One of the big benefits of this is to enhance the visibility of driving while not significantly glaring any other drivers," Ballard said.
The forward facing cameras in the car detect the cars in front of them and then it automatically adjusts the lights so it does not blind oncoming drivers or drivers in front of the vehicle, Ballard says. Users can also adjust the amount of light coming out of the vehicle so automotive OEMs can adjust the lights to however much light they want to distribute, depending on the type of car or use case.
With more than 1 million pixels, TI says it can project custom objects inside the headlights. Instead of just headlights being used to see the road, it would now be able to project navigation markings or messages or other types of signs on the road itself.
Ballard says this would be extremely useful for autonomous driving when the car has to communicate with other vehicles on the road or pedestrians but can't simply wave someone to take the right of way or proceed through a stop sign. The lights would also be able to leverage other information systems on the car for GPS navigation with projected turn points given through the DLP headlights.