Texas Instruments Inc. (Dallas, Texas), has announced it can supply two high-resolution micromirror chips for use in 3D printing, 3D machine vision and lithography applications.
The DLP9000 has more than four times higher resolution and pattern rates that are twice those of the previous best device, the DLP4500. The second chip being introduced is the DLP6500 with twice as many pixels and twice the pattern rate, TI said.
The DLP9000 offers a 2560 by 1600 pixel micromirror array of four million pixels and is the highest resolution digital micromirror device in TI's portfolio that is available to the general market. The DLP9000 can be used to build large, advanced resolution objects in 3D printing and scan larger objects at longer throw distances. For cost-sensitive applications, the DLP6500 offers up to two million pixels in a 1920-by-1080 micromirror array.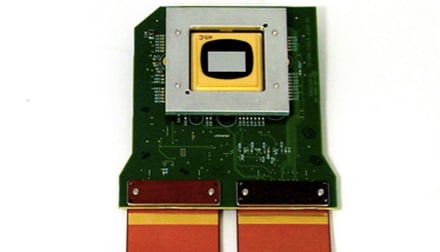 DLP9000 micromirror device contained within Lightcrafter 9000 evaluation module. Source: Texas Instruments.
TI invented the micromirror, or digital light processing (DLP) back in the early 1990s and originally deployed them in office projectors and eventually in cinema projectors. The principle of the digital micromirror is that an array of thousands of electrostatically-operated tilting mirrors of micron dimensions can be addressed like an SRAM and updated hundreds of times a second. When the mirror is in one orientation a pixel is illuminated and when in another the light is diverted away from the projection aperture. The high refresh rate can be used to achieve grey-scale and tri-color pixels.
Since those early deployments the DLP devices have been proposed for small-scale picoprojectors and for scanning 3D objects.
The DLP9000's micromirrors are on a 7.6-micron pitch and the micromirror array has a diagonal size of 0.9 inches. The DLP6500's micromirrors are on the same pitch but the array size is 0.65-inches. Each array IC can be supported by the DLPC900 controller IC, which offers 128Mbytes of embedded DRAM for storage of up to 400 1-bit patterns. Input and output triggers are suitable for synchronization with a variety of cameras, sensors or other peripherals.
The two devices support programmable pattern rates up to 9,500Hz for fast 3D measurements and mirror materials have been optimized for optical wavelengths of 400nm to 700nm compatible with resins for 3D printing and some resists for lithography applications such as in PCB manufacturing and display panel lithography.
TI is also providing development boards for each DLP. The DLP LightCrafter 9000 and 6500 evaluation modules include standard USB, HDMI and I2C interfaces and a graphical user interface for chipset programming. The DLP9000 is available in a 355-pin hermetic FLS package and the DLP6500 is available in 350-pin ceramic FYE and 203-pin hermetic FLQ packages. The DLPC900 controller is available in a 516-pin BGA package.
Related links and articles:
IHS semiconductor and component research
News articles:
Intel Q2 Beats Wall Street Estimates