The Huawei Ascend Mate2, while available globally, is Huawei's first smartphone to hit the U.S. market under its own brand. The device runs on the Android 4.3 OS, with announced plans to upgrade to KitKat. The phone's engine is a HiSilicon quad-core 32-bit RISC ARM Cortex-A9 CPU running at 1.6 GHz paired with an ARM Mali-450 MP4 GPU.
The Ascend Mate2, being aimed at the U.S. no-contract market, is set up to work with AT&T and T-mobile networks, and the mobile virtual network operators (MVNOs) that use those networks. Onboard radios work in LTE, HSPA+, and GSM modes. There is also GPS, Wi-Fi, and Bluetooth 4.0 connectivity.
The phone's large screen makes use of Huawei's multi-window app, Windows On Windows (W.O.W.), allowing access to multiple apps simultaneously.
Summary points:
Huawei Ascend Mate2
Processor, HiSilicon quad-core 32-bit RISC ARM Cortex-A9 CPU, 1.6 GHz; ARM Mali-450 MP4 GPU
Display, 6.1 in diagonal, 1280 x 720 pixels
Android 4.3 OS
Target market: Mass market, no-contract
Pricing: $305.00
Availability: Global
Total cost (direct materials and manufacturing): $149.64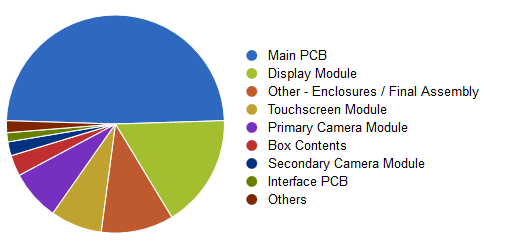 Source: IHS
Major Components:
- Apps/Baseband Processor, Multi-mode, Multi-band, Quad-core 1.6 GHz 32-bit RISC ARM Cortex-A9 CPU, ARM Mali-450 MP4 GPU, 28 nm – MFG: HISILICON – MPN: Hi6620 – (Qty: 1)
- Display Window/Touchscreen Assembly, 6.1" Diagonal, Capacitive, GFF type, w/ Corning Gorilla Cover Glass, w/ integral flex PCB – MFG: O-FILM TECH CO. LTD. – (Qty: 1)
- Battery, Li-ion polymer, 3.8 V, 3900 mAh, 14.9 Wh, w/ power management circuit, flex PCB & board-to-board connector – MFG: HUAWEI TECHNOLOGIES CO. LTD. – MPN: HB496791EBC – (Qty: 1)
- SDRAM, Mobile DDR3-1600, 2 Gb – MFG: MICRON TECHNOLOGY INC. – MPN: EDFA232A1MA-GD-F – (Qty: 1)
- Primary Camera Module, 13 MP, BSI CMOS, 1/3" format, auto focus lens – (Qty: 1)
- Secondary Camera Module, 5 MP, BSI CMOS, ¼" format, fixed lens – (Qty: 1)
- Flash, eMMC NAND, 16 GB, MLC – MFG: TOSHIBA SEMICONDUCTOR – MPN: THGBMAG7A2JBAIR – (Qty: 1)
- Display Module, 6.1" diagonal, 16.7M colors, TFT (IPS mode), 1280 x 720 pixels, 241 ppi 25.7 g – (Qty: 1)
- 10-layer, FR$/RCF HDI, 3+4+3, lead-free – MFG: COMPEQ MANUFACTURING CO. LTD. – (Qty: 1)
- Enclosure, main, top, die-cast magnesium allow, w/ injection-molded, glass-filled polycarbonate frame – (Qty: 1)
Exterior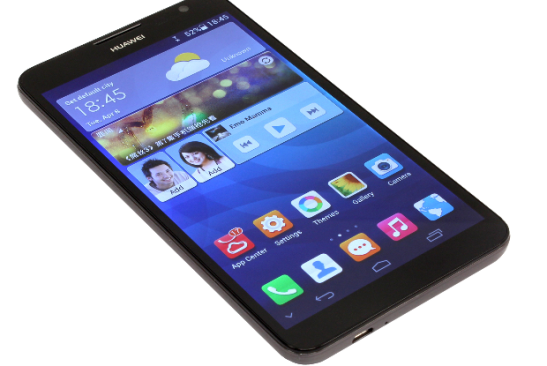 Source: IHS
Main PCB Top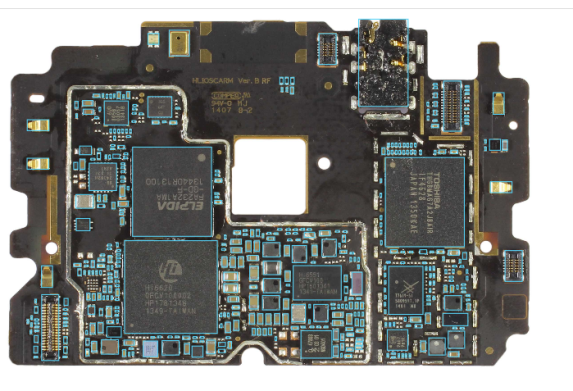 Source: IHS
Main PCB Bottom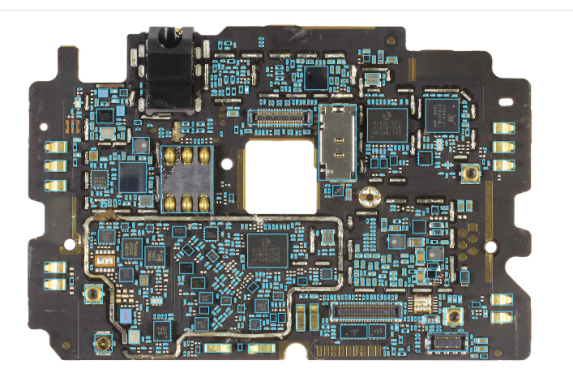 Source: IHS
Primary Camera Module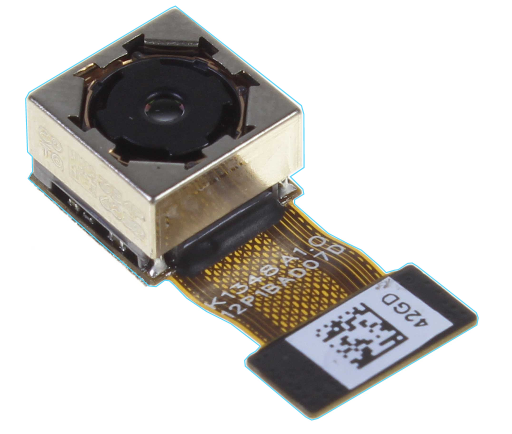 Source: IHS