Global unit shipments of smartcards are expected to hit 8.8 billion in 2014 and will then rise over the next five years with a compound annual growth rate (CAGR) of 4.4 percent, according to IHS Technology, the publisher of Electronics 360.
By 2019, the end of the forecast period, IHS expects annual smartcard shipments to be at 10.9 billion units, about 1.4 for each of the world's projected 7.6 billion inhabitants. At least four uses of smartcards will contribute to this rising demand. They are: chips within credit cards for payment and banking, e-government (ID and e-passports), healthcare and transportation.
"The market will expand despite declines in subscriber identification cards – SIM – which are used in mobile phones. Slowing growth in mobile phones will cause SIM card shipments to flatten or decline," said Don Tait, senior digital and ID market analyst at IHS, in a statement.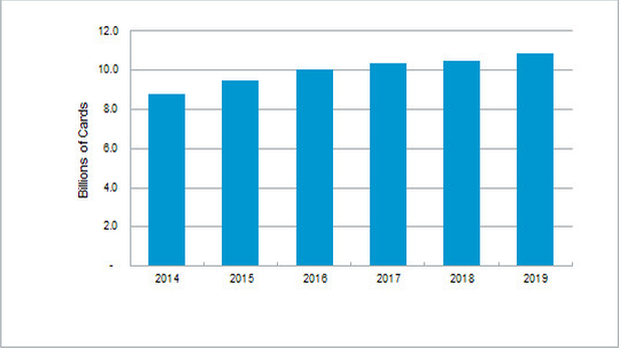 World market for smartcards (in billions of cards ships). Source: IHS.
Asia will play a key role in driving the growth of the smartcard market with the populous countries of China, India and Indonesia becoming crucial to the overall market in the next five years. Electronics passports are contributing high volumes for the Asian market with the Asia-Pacific region accounting for the highest number of ePassport shipments in 2013, IHS said.
One trend that might hurt growth is that towards multifunction smartcards and towards using mobile phones for payment systems. Mobile devices such as smartphones increasingly include Near Field Communication (NFC) chips, which perform electronic commerce and other functions that compete with smart cards.
However, overall IHS reckons enough growth potential exists within such sectors as e-government, health and transportation to more than compensate for any move towards multifunction cards.
More information on IHS's view of the smartcard market is available in a report entitled Smart Cards and Semiconductors Report – 2014. The report contains market splits in terms of the installed base of smartcards; smartcards shipped annually, card replacement rates, and smartcard IC shipments revenues as well as average selling prices. It also identifies key trends and opportunities in fast-developing sectors such as payment and banking, identification and machine-to-machine communications.
Related links and articles:
IHS Digital ID and IT Security services
News articles:
Electronic Passports Struggle for Stamp of Approval
Conditional Access Market to Peak in 2015