Harnessing the power of liquid-based batteries may be the future of energy storage.
Researchers at the University of Buffalo are looking into next-generation energy-storage batteries using the fluorescent dye boron-dipyrromethene (or BODIPY), a material that can be used to stockpile energy, making it suitable for rechargeable liquid-based batteries that could power home-energy storage or even power automobiles of the future.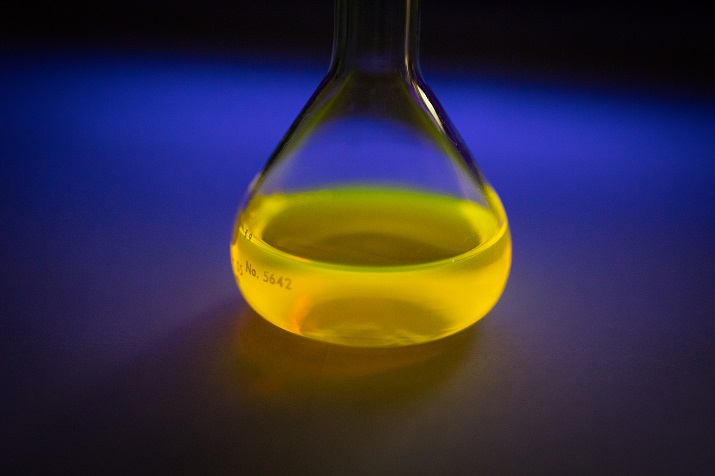 The glowing solution of dye under a black light that could be used in large-scale rechargeable energy-storage batteries. Source: University of BuffaloThe BODIPY dye has unusual chemical properties that allow it to store electrons and participate in electron transfer—the functions needed to save and deliver energy. Tests on a liquid-based battery using BODIPY were shown to operate efficiently, running well after researchers drained and recharged the battery 100 times.
Fluid-filled power cells offer many advantages over those made from conventional materials, University of Buffalo researchers say. First, dye-based batteries would not have the problem of catching fire—unlike lithium-ion batteries. If they ruptured inside the battery, they would simply leak. Also a fluid-filled battery, known as a redox flow battery, can store more energy than other batteries—enough to power a solar house overnight or to enable a utility company to stockpile wind energy.
"As the world becomes more reliant on alternative energy sources, one of the huge questions we have is, 'How do we store energy?' What happens when the sun goes down at night, or when the wind stops?" says lead researcher Timothy Cook, Ph.D., an assistant professor of chemistry in the University at Buffalo College of Arts and Sciences. "All these energy sources are intermittent, so we need batteries that can store enough energy to power the average house."
How It Works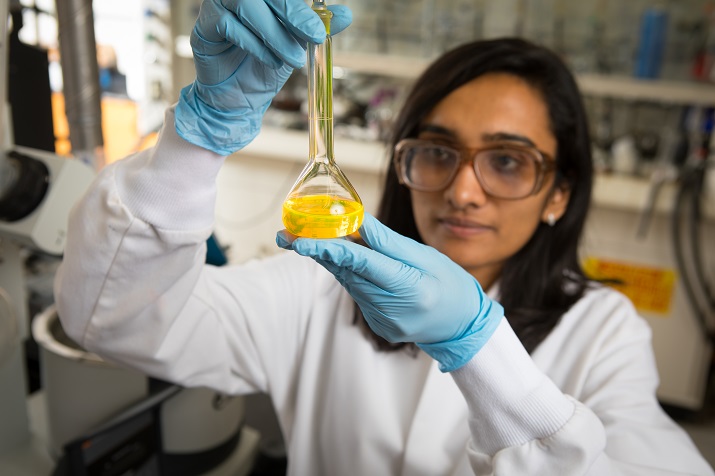 The dye-based liquid could be used to create a redox flow battery that uses two tanks of liquid to generate and store electricity. Source: University of BuffaloRedox flow batteries have two tanks of fluid. When the battery is being used, electrons are harvested from one tank and moved to the other, generating an electric current. This could power devices as small as a flashlight or as big as a house, researchers say.
To recharge the battery would mean using solar, wind or other energy sources to force the electrons back to the original tank. Researchers filled both tanks in their experiments with the same solution—a powdered BODIPY dye called PM 567 dissolved in liquid. The team found that in this liquid they were able to give up and receive an electron without degrading, and this enabled the dye to store electrons and enabled their transfer between the battery's two ends.
Researchers will next look to see what other types of BODIPY dyes would make for good energy-storage candidates as they progress toward making a commercially available solution for future energy-storage liquid-based batteries.