The capacitive touch controller IC market is predicted to reach about $2.8 billion in 2017, an increase of nearly 50 percent from $1.9 billion in 2013, according to a report from IHS Technology (NYSE: IHS). This implies a compound annual growth rate of 10.6 percent over the period 2013 to 2017. IHS is the publisher of Electronics 360.
The touch controller IC captures the position where a user touches the screen on the device having been made a familiar way of interacting with smartphones and tablet computers is being extended to more electronic equipment. The rapid penetration of additional markets is being counteracted by increased competition as more companies try to get into the market, according to IHS.
"The touch controller IC price is expected to drop as competition gets fierce in the market, but the capacitive touch controller IC market is likely to maintain its positive growth trend for now," said Seung-kyu Richard Son, a senior analyst at IHS Technology, in a statement. "Touch solutions that can stimulate consumers' emotions should emerge steadily in order for the market to continue to grow."
This could include touchscreen systems that can provide haptic feedback, which are in a development phase right now.
Smartphones and tablet computers have accounted for the majority of capacitive touch-panel demand market to date. But from the end of 2012 touch panels have been found in PCs and monitors.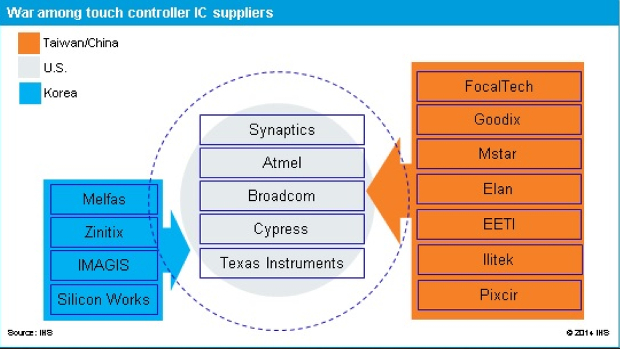 Asian chip companies starting to press established leaders.Source: IHS.
Similarly up until 2011 US companies Atmel, Synaptics, Cypress and Broadcom dominated the market. But as the demand for smartphones and tablet PCs soared, Asian companies, including Melfas from South Korea, and FocalTech, Goodix and Mstar from China and Taiwan, are actively entering the touch controller IC market with enhanced skills and price competitiveness, the report says.
The touch controller IC companies from China and Taiwan are growing because they are offering low-priced products and have better relations with the local smartphone and tablet computer manufacturing infrastructure, this is despite some technology lag behind western IC suppliers which is diminishing with time
"The growth in Chinese-Taiwanese companies has resulted in a fall in supply prices for touch controller ICs, which is having a positive impact on manufacturers. However, an excessive drop in prices can lead to lower profits for some companies and, in the end, will curb new investments," said Son.
Related links and articles:
Touch Controller IC Market & Development Trend Report
News articles:
Corning, Atmel Team on Thinner, Curvy Touchscreens
Battery-less Gesture Tech Uses TV Signals for Power and Commands