Cypress Semiconductor Corp. (San Jose, Calif.) has agreed to sell the major part of its TrueTouch touch screen controller business to Parade Technologies Ltd. for $100 million.
Parade Technologies (Santa Clara, Calif.), a supplier of mixed-signal ICs for display and high-speed interface standards, was founded in 2005 and is listed on the Taipei Stock Exchange. Although headquartered in Silicon Valley, Parade is well integrated in Asia, with offices in Taiwan, Hong Kong, as well as Nanjing and Shanghai in China.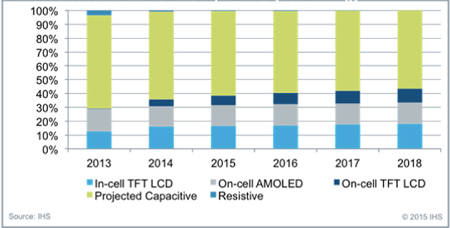 Mobile phone touches module shipments by technology.Parade says it will continue to provide TrueTouch ICs to mobile customers and expand sales into other consumer-oriented market segments. In addition to smartphones and tablet computers, it intends to supply wearable technology, GPS systems, digital cameras and certain industrial segments.
Meanwhile, Cypress will continue to supply TrueTouch ICs to automotive and home appliance customers, and its CapSense button-replacement technology to mobile customers.
The Cypress TrueTouch capacitive touchscreen technology works in a range of conditions and supports waterproofing, noise immunity, passive stylus and glove-touch modes, as well as proximity sensing and face detection.
"Mobile capacitive touchscreen solutions are increasingly being integrated directly into the display system," says Hassane El-Khoury, an executive vice president at Cypress, in a statement. He says that Parade's relationships with leading personal computer and consumer electronics manufacturers make it a good home for the technology.
Research from the IHS touch panel group that focuses specifically on mobile phones says that in-cell and on-cell touch-screen modules are forecasted to grow at the expense of capacitive touch screen as a percentage of the market. The segmeent took 35% of the market in 2014 and is expected to rise to 43% in 2018.
"The technical touch sensor evolution is changing the face of touch-panel competition," says Calvin Hsieh, director for IHS in a statement about the
Quarterly Touch Panel Market Analysis report. Since Apple adopted in-cell touch technology in 2012, and Samsung chose on-cell AMOLED for their premium product line, embedded touch for mobile phone displays has grown rapidly and has become a "threat to add-on types," he says.
Parade says it will fund the transaction with cash. The deal is expected to close during the third quarter of 2015.
Questions or comments on this story? Contact peter.clarke@ihs.com
Related links and articles:
Quarterly Touch Panel Market Analysis
News articles:
Cypress Introduces End-to-End Bluetooth Module