Adesto Technologies Corp. (Sunnyvale, Calif.) has been quietly shipping its conductive bridging RAM nonvolatile memory to selected customers and has just hit the milestone of its one millionth CBRAM product shipped.
The shipments, which have been happening for less than one year, make CBRAM the first resistive memory available in the market, according to the company. There are certainly many alternative nonvolatile resistive RAM technologies under research but there are not as yet many in the market. Micron was offering a couple of families of phase-change memories but stopped actively selling the devices in 2013.
Getting such innovative integrated circuits to market is difficult and Adesto's CBRAM products are also somewhat overdue. Adesto announced in 2011 that it would ship products manufactured by foundry partner Altis Semiconductor SA (Corbeil Essonnes, France) in the same year.
Instead Adesto came to market with serial flash product families acquired from Atmel Corp. in 2012. At that time Adesto said that it was planning a second generation of stand-alone CBRAM devices that it would ship in 2013; a timetable to which it appears to have adhered. Altis was running a 130nm CMOS process with the promise of a move to 90nm.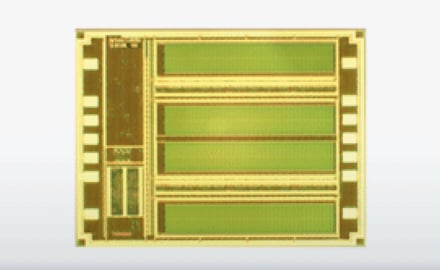 A 1Mbit serial EEPROM format CBRAM integrated in 130nm logic process. Source: Adesto Technologies.
Adesto has now posted on its website, some details of its RM24x family of CBRAM devices with memory capacities of 32kbit to 1Mbit and functional and electrical compatibility with serial EEPROMs and a choice of SPI and I2C interfaces.
CBRAM was originally developed at Arizona State University where it was aslo known as Programmable Metallization Cell technology. It involves the movement of metallic ions to form a conductive bridging filament. While early research focused on silver Adesto has used the movement of copper ions.
The major benefit claimed for CBRAM is that it uses 100 times less energy than today's leading memory technologies without sacrificing system performance. Adesto is looking to sell this low power operation into a broad range of applications including mobile equipment, medical and industrial systems and server computers. The low power of CBRAM is a natural match for short-range wireless applications based on Bluetooth Low Energy, ANT+, ZigBee and other Wi-Fi platforms used in wearable electronics and sensor systems, the company said.
"Devices based on CBRAM can operate with significant reduction in power consumption, allowing longer battery life. This powerful capability will enable previously unimagined products such as the autonomous connected devices that are critical to the Internet of Things," said Narbeh Derhacobian, CEO of Adesto, in a statement.
Derhacobian said that he anticipates an increasing use of CBRAM as a licensed technology for use embedded in system chips, for applications such as wearable electronics.
Related links and articles:
News articles:
Crossbar Funding Moves ReRAM Closer to Market
ARM Support Claimed for Non-Filamentary ReRAM
Startup Describes Proprietary Non-Volatile Memory Technology