Automobiles are increasingly incorporating advanced driver assistance systems (ADAS) to increase vehicle safety—and that's good news for the semiconductor industry, according to IHS.
IHS projects that the global semiconductor market for active-control systems in the autonomous vehicle will grow nearly fivefold in just seven years. This expansion will be driven by an increasing shift from cars simply providing alerts in hazardous situations to direct intervention in order to avoid accidents, according to the firm.
Revenue for active-control systems in cars is projected to grow to nearly $884 million in 2020, up from just $187 million in 2013, according to IHS. The projected increase during this period would equate to a compound annual growth rate of 25 percent.
In 2014, IHS projects that revenue for active-control systems will increase 31 percent to reach $246.1 million.
"Passive mechanisms in the autonomous vehicle help identify potentially hazardous conditions, but the driver is still fully responsible for avoiding an incident," said Akhilesh Kona, analyst for automotive semiconductors at IHS, in a statement. "In active-control systems, however, the mechanism takes over if the driver does not react to warnings so that the vehicle can avoid an accident or minimize the impact of a collision."
Passive control mechanisms include things such as lane-departure warning, which monitors the lane markings on a roadway and alerts a driver when a car starts veering out of its lane if the turn signals are not being used. In an active-control mechanism such as lane-keep assist, the car acts in more proactive fashion: if the driver does not respond after an initial warning from the car, the car itself takes action to keep the vehicle from drifting.
"The semiconductors used for active-control systems need to be compliant with stringent safety certifications, such as Automotive Safety Integrity Level (ASIL), or ISO 26262," said Luca DeAmbroggi, principal analyst for automotive semiconductors at HIS, in a statement. "Since safety considerations are of paramount importance to active-control semiconductors throughout their life cycle, ASIL systems will require compliant chips that will typically cost more than the standard ASIL counterparts used in passive systems."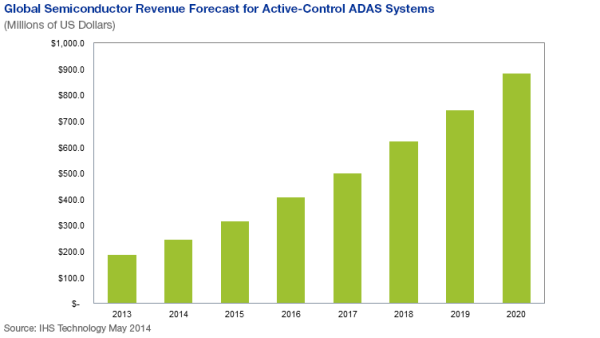 IHS projects that revenue for ASIL-compliant micro-components will grow to $450 million in 2020, up from $70 million last year—an even faster growth rate than the firm projects for overall semiconductors for active-control systems.
ASIL-compliant microcomponents (MCU) will enjoy even faster growth than overall semiconductors for active-control systems, with ASIL revenue growing to $450 million in 2020 from $70 million in 2013.
IHS noted that Europe's New Car Assessment Program (NCAP) is encouraging car makers to implement AEB for pedestrian detection and to help vehicles avoid collisions with other vulnerable road users, including cyclists and animals. Vehicle manufacturers are already planning for their cars to support automatic emergency braking (AEB) systems, which use forward-looking radar and video systems to detect the relative speeds of vehicles to determine if a collision is imminent. The car can then apply full or partial braking power to stop or slow the car if a potential collision is detected.
The NCAP is patterned after the American model created by the U.S. National Highway Traffic and Safety Administration, evaluating new vehicle designs for safety and performance threats, IHS said.
Due largely to the existence of the European program, global semiconductor revenue for pedestrian-detection systems is projected to increase from $2 million in 2013 to $400 million in 2020, according to IHS.
The IHS findings are contained in the report, "ADAS Semiconductor Market Tracker H1-14," from the Automotive & Transportation research area of IHS. The firm also has reports and services on ADAS system trends and markets.
Related links: