EDA and intellectual property (IP) provider vendor Synopsys Inc. has announced an initiative that aims to reduce time to market for customers by augmenting the company's IP portfolio with prototyping kits, software development kits and customized IP subsystems.
Synopsys (Mountain View, Calif.), the No. 2 vendor of IP behind ARM, said its IP Accelerated initiative aims to deliver solutions that address designers' pain points during IP implementation, software development and IP integration.
According to John Koeter, vice president of marketing for IP and prototyping at Synopsys, semiconductor companies are facing increased time to market pressures amid growing SoC complexity, increasing software content and the integration of more IP blocks.
"Our customers are being asked to do more, provide more software and do it in less time," Koeter said. He added, "Every time I talk to a VP of engineering at a semiconductor company they tell me that they are spending about 50 percent of their budget on software development."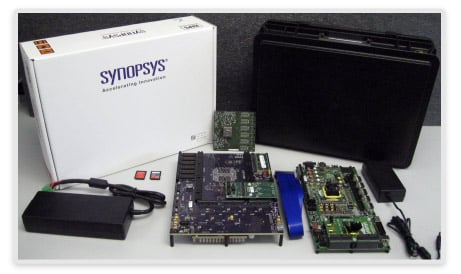 John Cummins, senior vice president of worldwide sales and marketing at DisplayLink, said in a statement issued by Synopsys that with 50 percent of budget going to software development, the company's engineers need to have deeper system expertise to better support customers. "We need to focus not only on acquiring the individual IP blocks, but also how the IP is integrated and validated in the context of the entire SoC," he said. "Synopsys' IP Accelerated initiative hits the mark by addressing the key needs that directly impact companies' ability to develop software for the IP and integrate it into an SoC."
Synopsys' said DesignWare IP Prototyping Kits and IP Virtual Development Kits for select DesignWare IP are scheduled to be available in July. Demos of the DesignWare Development Kits can be seen in the Synopsys booth at the Design Automation Conference this week in San Francisco.
More information about the Synopsys' IP Accelerated initiative is available on the company's website.
Related stories: