MediaTek has rolled out a new quad-core tablet System on Chip (SoC) with full hardware support for the new HEVC (H.265) video playback standard that will be integrated into Alcatel's Pixi 7 and 8 tablet.
The tablet processor, dubbed the MT8127, features an ARM Cortex-A7 quad-core processor, with a clock rate of 1.5Ghz, and a quad-core ARM Mali-450 MP4 GPU, a 13 megapixel camera, 1080p video playback and recording, Wi-Fi support as well as NFC compatibility. The H.265 standard allows users to play videos with an average of up to 50 percent less video bandwidth compared to the previous H.264 standard.
MediaTek is targeting the mid-range tablet space, the first of which will be incorporated into Alcatel's Pixi 7 tablet, set for launch in July, and the Pixi 8 tablet expected to launch later this year.
According to ?IHS, global shipments of tablet processors are expected to increase 23 percent in 2014, reaching an estimated 299.7 million units. Tablet processor shipments are expected to continue increasing in 2015 and 2016, when they will hit an estimated 400 million units, according to the firm.
With such high growth expected, MediaTek is just one of many companies that are vying for a piece of the pie. Heavyweights such as Samsung Electronics, the maker of tablet chips for the Apple iPad, remains on top but both larger and smaller vendors are getting into the mix in an effort to take advantage of the blossoming market.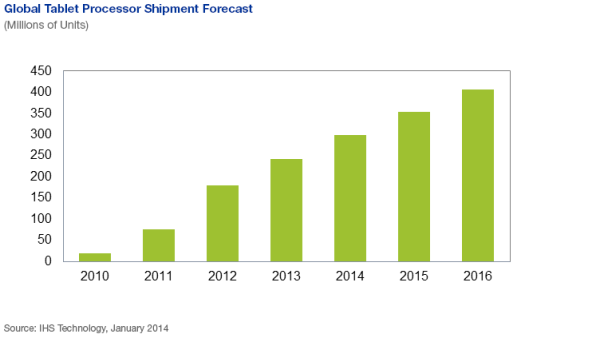 Intel Corp. has also thrown its hat into the tablet processor space in recent times, targeting a broad range of Android-based tablets. Intel plans to roll out processors for tablets ranging from entry-level class all the way to the high-end tablet space.
Qualcomm has also branched out from just making chips for smartphones and into the world of tablet semiconductors. Much like Qualcomm, Taiwan-based MediaTek has long been a supplier in the smartphone market but has been angling to get into the tablet space.
Related links: