Processor IP licensor ARM Holdings plc (Cambride, England) has developed a 32-bit Cortex-A series processor aimed at the mid-tier of smartphones with selling prices of between about $200 and $350.
It has accompanied this with the Mali-T720 GPU, Mali-V500 video processor and Mali-DP500 display processor to create a suite of IP that caters for a range of products from mid-tier smartphones and tablet computers through to smart televisions and automotive infotaintment and driver assistance systems.
The Mali-DP500 is the productization of intellectual property that come to ARM with the acquisition of the Panta family of display processor IP from Cadence Design Systems Inc. (San Jose, Calif.) in September 2013. Panta was original developed by Evatronix SK SKA of Poland, which was acquired by Cadence in May 2013.
The Cortex-A17 is essentially a resyntheis of the Cortex-A15 targeting 28nm planar bulk CMOS and achieving similar performance to the A15 but at 40 percent less power.
James Bruce, director of the mobile segment for ARM, said that the 28nm node provides the highest number of transistors per dollar. "A lot of partners will stay on 28nm for a long time, two or three years," he told Electronics 360 in a phone interview.
The Cortex-A17 supports full-system coherency for big-little processing with the Cortex-A7 using the CoreLink CCI-400 Cache Coherent Interconnect. It does drop the error checking and correction (ECC) memory interfaces to L1 cache and is intended as an upgrade to dual-core Cortex-A9s that have been used in numerous mobile phone designs. The Cortex-A17 can get to 2-GHz clock frequency in 28nm CMOS and offers about a 60 percent performance improvement over the Cortex-A9.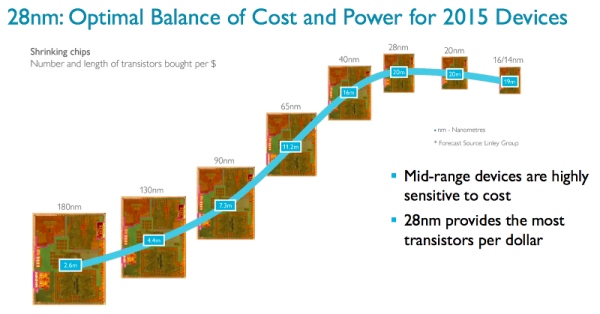 Bruce said that the IP for the Cortex-A17 was released to partners in the first quarter of 2014 and that he expected devices to ship in1Q15.
MediaTek (Hsinchu, Taiwan), Realtek (Hsinchu, Taiwan) and Via Technologies (Taipei, Taiwan) have all gone into ARM's press release saying they are using the Cortex-A17.
MediaTek's first product based on the Cortex-A17 will be the MT6595, an octa-core smartphone SoC with 4G LTE and H.265 codec support for 4K resolution video watching. The MT6595 will employ big-little combining quad Cortex-A7s with quad Cortex-A17 in a heterogeneous multiprocessing platform that allows – in extremis – for all eight cores to be used at the same time.
"MediaTek has a keen understanding of the smartphone market and continues to identify innovative ways to bring a premium mobile experience to the masses," said Nowl Hurley, vice president and deputy general manager of the ARM product division, in a statement issued by MediaTek.
The MT6595 platform will be commercially available by the first half of 2014, with devices expected in the second half of the year, MediaTek said.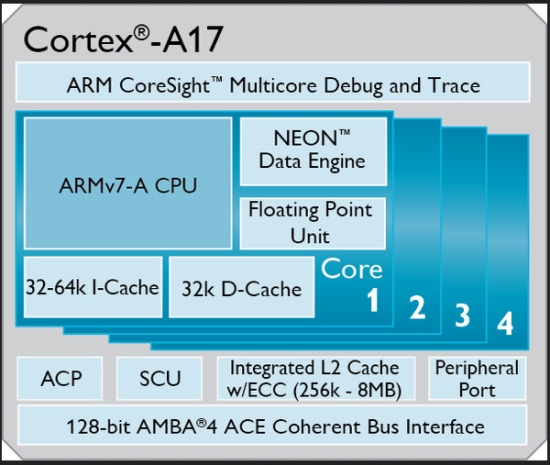 Bruce said that the Cortex-A17 will be supported by processor-optimization packages (POPs) aimed at TSMC 28HPM and Globalfoundries 28SLP processes. A few days before ARM also announced support for a 28nm poly SiON process from Semiconductor Manufacturing International Corp. (Shanghai, China). Under the agreement, ARM will provide a comprehensive physical IP platform for advanced process technology that supports a consumer applications targeting the smartphone, tablet computer, wireless and digital home markets.
"Strengthening our collaboration with ARM enables optimized implementation of cost- and power-sensitive SoCs for our customers," said Tianshen Tang, senior vice president of SMIC's Design Service Center.
Dipesh Patel, executive vice president and general manager, of the physical design group at ARM said: "Extending our collaboration with SMIC on the 28nm PS process demonstrates ARM's commitment to provide the best SoC implementations at leading foundries."
Related links: