Germany's industrial and automotive chip vendor Infineon Technologies AG is planning to cut back on its capital expenditure as a percentage of sales and has set a target of 13 percent compared with the current target of 15 percent.
This is despite the fact that the company has enjoyed good financial results recently as a result of past investment and that CEO Reinhard Ploss has apparently signed up to the European Commission's aspiration to increase European semiconductor manufacturing to 20 percent of the global total by 2020.
Infineon said in a statement that past investment in 300mm wafer technology for power semiconductors was providing an advantage in the market, digital requirements at 65nm and smaller geometries were being made at foundries and the addition of out-sourcing of test, assembly and packaging would all mean a reduction in capital expenditure as a percentage of sales.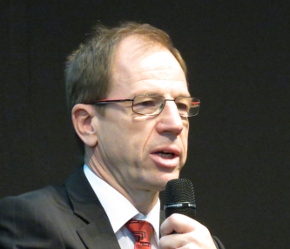 Reinhard Ploss, CEO of Infineon
The company added that even with the reduced capital intensity it would be able to grow revenue at an average of 8 percent over the coming economic cycle and that with higher free cash flow as a result more money could be given back to investors by way of raised dividends. Subject to there being an appropriate level of un-appropriated profit available for distribution Infineon plans to raise the dividend by between four and six cents per share as early as the 2014 fiscal year.
Infineon made a net profit of €377 million (about US$525 million) on revenue of €3.84 billion (about US$5.35 billion) in its 2013 financial year, which end on Sept. 30, 2013. In the first quarter of the 2014 fiscal year the company made net profit of €124 million (about US$170 million) on sales of €1.05 billion (about US$1.46 billion.
Grow faster
"Infineon is determined to ensure excellent product availability and to grow faster than its competitors. The fact that we will need to employ less capital in future to achieve this, clearly demonstrates that we are on the right track with our manufacturing strategy," said Ploss in the statement. "It is justified that shareholders should also now benefit from the progress made. Therefore it is our intention to raise the dividend significantly for the current fiscal year."
Ploss is one of the European CEOs that form the Electronics Leaders Group that has been charged with coming up with a strategy to implement what European Commission vice president Neelie Kroes calls: "the Airbus of Chips." However, there appears to be an abiding conflict of interest. While the European Commission wants to see local manufacturing moving up the agenda its "go-to" companies Infineon, NXP and STMicroelectronics have been implementing fab-lite strategies and reducing capital expenditures.
Related links and articles:
News articles:
Industrial, Automotive Drive Infineon's Strong Quarter
Report: How to Double Europe's Chip Manufacturing Share