Sharp Corp. has developed a 7-inch tablet device equipped with a MEMS-IGZO display and plans to commercialize the product targeting Japans business-to-business market in the first half of 2015.
The MEMS display has a resolution of 1200 by 800 pixels, slightly lower resolution than some IGZO-LCD displays for 7-inch tablets and according to photographs taken at CEATEC show in Japan and shown online has a considerable depth, which unless refined may create a problem with deployment in mobile equipment.
The MEMS-IGZO display is part microelectromechanical system (MEMS) based on technology developed with Pixtronix Inc., a Qualcomm subisidiary, and partly an addressing backplane based on indium gallium zinc oxide (IGZO) developed by Sharp.
The MEMS technology acts as an efficient shutter and color selection system while the IGZO, with its high electron mobility, is an energy efficient backplane. The MEMS-based display and the IGZO backplane achieves further power efficiency and broader color reproducibility than possible with standard liquid crystal display (LCD) technology, Sharp said. This generation of MEMS-IGZO display appears to be based on a tricolor MEMS shutter for red, green and blue. However, Qualcomm has developed a tunable pixel technology that can display any color and that produces a wider color gamut for images.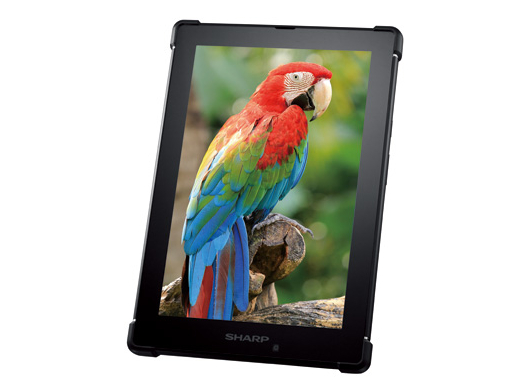 A 7-inch MEMS-IGZO display from Sharp. But note that Sharp does not have sufficient confidence in the display to let it speak for itself. The company states that "The image is a montage, which is different from real displaying." Source: Sharp.
The tablet is due to ship with a Qualcomm Snapdragon 800 processor, running Android 4.4 KitKat operating system, be waterproof to IPX7 and sport an LTE modem.
The display can be switched between a high brightness mode for showing pictures and text under sunlight and grey-scale monochrome mode for low power consumption.
However the technology has been some time coming. Samsung invested in the struggling Japanese company in March 2013 and Sharp then missed a deadline to supply MEMS-IGZO displays to Qualcomm by the end of the same month.
Related links and articles:
IHS emerging display technology research
News articles:
Qualcomm Revamps MEMS Display With Single-Pixel Color
Struggline Display Maker Sharp Expands Supply Deal with Samsung
Sharp Misses Qualcomm Deadline for IGZO Displays