Intel is set to invest about $6 billion to upgrade its chip manufacturing facilities at Kiryat Gat, Israel, indicating that Israel has won a competition with Ireland to host manufacturing of the next-generation 10nm FinFET node. Israeli politicians welcomed the news, according to local reports.
In September 2013 Intel announced a plan to take over a wafer fab making flash memories in Kiryat Gat from Micron Technology Inc. This was Intel's original wafer fab in Israel, which had been sold to Numonyx and then on to Micron. The factory was built in 1998 as Intel's Fab 18 facility and it is now likely that Intel will strip out the interior of that shell to create a 10nm capable logic fab.
For several generations of manufacturing process technology Israel has sought financial support packages from overseas governments to reduce its cost of operating overseas manufacturing plants. For the 14nm node Ireland won out against Israel and as result is expected to start the production of 14nm FinFETs in Leixlip near Dublin in 2014.
Intel confirmed it has submitted a business plan to upgrade the Kiryat Gat wafer fab in Israel to meet "future needs" but said that details of the project, including schedules, costs and technologies are not being disclosed at this time.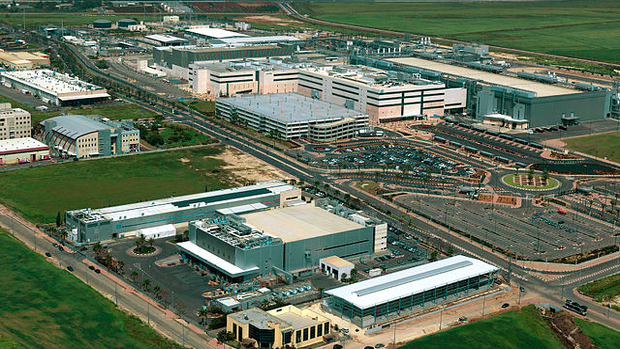 KIryat Gat: home to two Intel fabs with more spending to come.
Intel is the largest private employer in Israel and currently employs 9,855 people and according to local results could employ an additional 1,000 staff as part of the upgrade.
A small incentive
"In the past 40 years, Intel [Israel] exports totaled $35 billion, most of it from the production plants in Kiryat Gat and Jerusalem," said Maxine Fassberg, general manager of Intel Israel and plant manager at Kiryat Gat, in a statement. "We are committed to continuing the flow of amazing achievements from our operations in Kiryat Gat," she added.
Israel's government will provide between 5 and 10 percent of the cost of the upgrade; or between $300 million and $600 million, the reports said. Typically Intel and other chip manufacturing inward investors have looked to be provided with closer to 30 percent of their costs when they set down a wafer fab in a country.
Intel recently revealed that it had spent about $5 billion over three years on upgrading its Irish manufacturing facilities. However, without that investment the future of Intel in Ireland would have been in doubt. The latest investment plan shows Intel is committed to staying in Israel until at least 2030, according to news reports quoting unnamed government sources.
"We competed with the whole world and Intel chose us. In the next few days it will submit a business plan for immediate and direct investments of $6 billion." Haaretz newspaper quoted Naftali Bennett, Israel Economy minister as saying.
Related links and articles:
News articles:
Intel Reveals Financial Black Hole Called Mobile
Intel Ignores History With Wearables Buy
450mm Wafer Consortium Appoints TSMC Exec as Leader