Leading foundry Taiwan Semiconductor Manufacturing Co. Ltd. is introducing a 3D multi-die assembly technology called InFO as a follow-on offering to its established CoWoS 3D process.
While CoWoS has found limited acceptance, restricted mainly to FPGA chips, InFO is being aimed mobile applications where it is being used to link application processors to memory amongst other things.
Che Chia "CC" Wei, co-CEO of TSMC laid out the plan during a conference organized to discuss the company's first quarter financial results and said that the technology would be close to production-ready early in 2015.
Wei acknowledged that CoWoS – standing for chip-on-wafer-on-substrate – was only in small volume production, saying that this was because the high performance capability and cost structure made it only suitable for a limited set of applications.The best known example of CoWoS was developed between TSMC and Xilinx and used by Xilinx with its Virtex-7 series FPGAs. These combined multiple 28nm die using an interposer.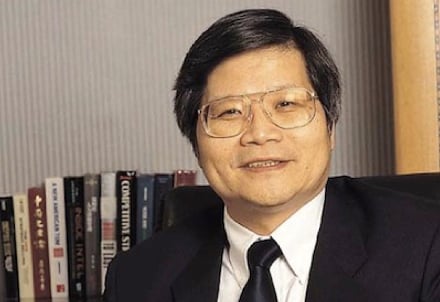 Che Chia "CC" Wei, co-CEO of TSMC.
Wei told analysts that InFO – for "integrated fan-out" – was a derivative technology that would have wider applicability. "We are working with major customers on InFO to incorporate this structure in their future products. We have delivered many functional dies to our customers already and process optimizations are on-going." Wei added: "We are very excited about our advanced assembly InFO for our large volume mobile customers."
The main difference between InFO and CoWoS is the geometry used for interconnect, Wei said. CoWoS was using 65nm minimum geometry to connect separate die. InFo relaxes the geometry to make assembly easier. "InFO has lower density but the cost is much lower," said Wei.
Wei did not indicate whether InFO differs from CoWoS in other ways or whether it supports multi-layered die.
When asked whether InFO would be something only for high-end smartphones or would be used across the whole of the mobile equipment range Wei said: "The outlook is very good; the performance is very good; the price is very low. We certainly believe it will be very popular among mobile products."
With the introduction of CoWoS TSMC allowed first-wave customers to continue using external packaging partnerships if they choose. However, the intention was that when a 3-D IC assembly service was offered more broadly that assembly would be done by TSMC.
As with CoWoS, TSMC is eager to do the multi-die assembly itself rather than have it taken on by package assembly and test houses. "We are able to do the complete line ourselves," said Wei.
Related links and articles:
News articles:
Intel, Altera Go 3D With Multi-die Packaging
Intel Flexes its Manufacturing Muscle
Intel will be Fabbing for Altera